SHINE: terrific entertainment rises above shortcomings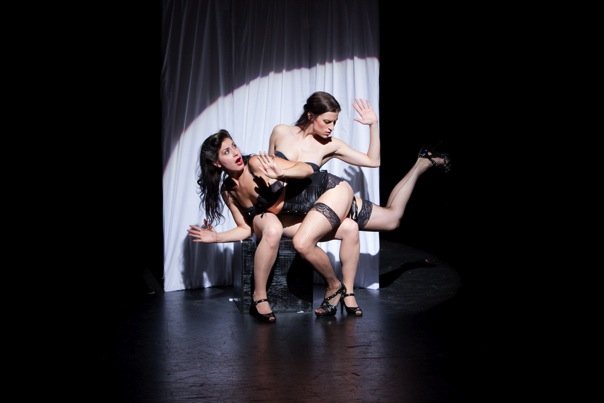 Vancouver: I got to the Waterfront Theatre on Granville Island a little tipsy on white wine and with meat still stuck between my teeth from dinner. Somehow, it seemed a fitting state to take in a burlesque musical.
SHINE: A Burlesque Musical is terrifically entertaining. Even if you don't like the story, the boobies and simulated sex should be enough to get you through to the end of the night. No need to wait until the end of this review: I'm telling you straight up, right now, that you should go. Have a couple of drinks at the bar. Take a friend. Make out at the back of the theatre. It's that kind of show, people. 
The main storyline is not ground-breaking, but it is quite cleverly written, with some real stand-out moments. Shine Mionne (Cass King) is the owner and artistic director of the flailing Aristocrat Theatre; money is tight, and her burlesque performers are getting antsy. In comes the aptly named Richard "Dick" Suit (Michael Smith), offering big money and his services as a producer. What follows is an ostentatious pageant of musical numbers as the artistic director/producer duo bicker over which acts to keep in the show, one striving to preserve burlesque's edgy roots, the other trying to produce a saleable, profitable show that will bring in the audiences. 
As trite a comedy as SHINE may appear on the surface, anyone who works in the arts knows damn well that in these trying financial times, these are real and relevant issues. Although SHINE may romanticize the starving artist, it hits the audience with some very honest moments. A great example of this candid honesty is Shine Mionne's short but powerful soliloquy about the looming threat that hangs over her head: if everything fails, move back to Saskatoon and get a job in a bank.  
The story is interspersed with dancers rehearsing and auditioning their numbers for the show, and some of the numbers are real gems. I don't know how they did it, but making the Muppet aliens sexy and alluring made me feel warm and gushy in all the right places. It's a moment that has been seared into my cerebral cortex forever. 
Unfortunately, there are also too many sloppy numbers that need a couple of extra weeks of intense rehearsal. Yes, I understand that burlesque may be more about empowerment than polished performances.  And yes, I understand that it's supposed to be gritty. But I still don't think it's acceptable to present a weak performance. 
Indeed, the performers in SHINE vary greatly not only in (cup) size, but in capability. I have a robust pet peeve for performers who do not project their voices or attempt to develop any stage presence – and there are some in Shine that are simply too amateur for my tastes. It is all the more frustrating given the well-written script; with some more professional performers the show could have gone a lot further. 
Case in point: Noelle Pion's voice is incredible (more on this below). However, she isn't the right fit for the role of Lulu Von Doozy, a brash, don't-you-mess-with-me, big-momma type; it isn't until part way through the second act that Pion starts looking truly comfortable in the part. 
Much of SHINE is carried by a fantastic and completely convincing performance by Cass King. I first saw King, who is one half of the musical duo the Wet Spots, perform in 2003 - in a basement gym on Commercial Drive at the annual Spartacus Christmas party. I had just moved to Vancouver and had no idea what I was in for. All these years later, I'm glad to see that her acting and writing skills are just as memorable as her regular musical act.
The biggest disappointment of SHINE is the sound. I'm not going to tart this up: it is terrible. I'm not sure who decided to mic some of the songs and not others, but I would have preferred, given the assault on my aural senses, that no one was amplified. I am not an expert when it comes to the science of sound mixing, but I can tell when it feels like someone is jabbing a pencil into my eardrum. Too bad, given that there are some great singers on stage (notably Noelle Pion). I guess that's where the wine comes in handy. 
Screaming Chicken Theatrical Society and the Wet Spots present Shine: the Musical, at the Waterfront Theatre in Vancouver August 12 - August 22, 2009. For more information swing your tassels here. 
By Maryse Zeidler