Seven of Us: depends on your standards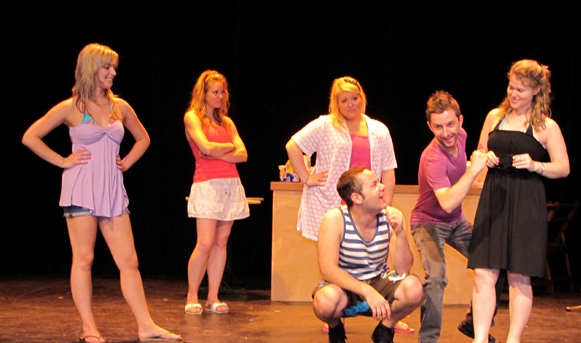 Seven of Us, by Goldenberg Productions and currently on as part of the Toronto Fringe, is a mediocre musical whose success or failure depends mostly on the audience's standards. Anyone looking for some unremarkable songs, plenty of kissing on stage, a few laughs and an evening's distraction should be satisfied. If you're looking for musical invention, consistent performances or dramatic poignancy, keep on looking.
I'm always happy to see new creators develop for musicals, so kudos to Brian Goldenberg for the music and lyrics. However, the music is cliché and the lyrics painfully awkward. (FYI, you can trust the audience to remember the names of the characters singing; no need to write them in every eight bars.)
Stefanie Farina as Kelly and Taylor Evans as Dominic were the standout singers. That may have been a casting mistake, given that John McNeill plays the wanna-be-music-star Kevin. His singing is nice but nowhere near show-stopping. (Frankly, his performance is overpowered by the possibility that his swim trunks would fall off.)
Anwyn Musico (Lauren) and Michael De Rose (Rob) were vocally well matched as the leading lovers, but their relationship isn't interesting enough to make people care if they stay together or not. The relationship between Dominic (Evans) and Marsha (Samantha Fletcher) was the most engaging. Unfortunately, the cute couple's chemistry deflated when they sang because Fletcher lacks the vocal depth to carry a solo. That said, she delivered one of the more likable dramatic performances
Elizabeth Laing and David Ludwig as the parents have a couple decades of experience over the rest, and it shows to their advantage. Unfortunately, they only get so much stage time in a show about seven friends hanging out over the summer after university. My input is keep up the sincere effort, but try more workshops before the next show.
Seven of Us is part of this year's Toronto Fringe Festival at the Bathurst St. Theatre and runs until July 10. For more information go here.
By Roselyn Kelada-Sedra