A Rush of Blood to the Head: honest questions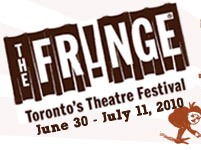 Budding playwright Spencer Smith tackles tough material in A Rush of Blood to the Head, presented by Water's Edge Productions and currently on at the Toronto Fringe. He examines the value of every day moments, how the choices that don't seem to matter wind up deciding who we are. The play follows a family through seemingly mundane days. Her boys grow up, decide what to do with their lives, fall in love and out of love. All of it happens within a moment, as a bullet pierces the head of the main character, Christopher. The question Smith raises is, who is Christopher – hero or villain – and what decides his value?
The play has ups and downs, but it's worth seeing for the honest questions it offers. Smith sometimes overwrites. For instance, Mum's speech to her adolescent son about how he can be a superhero sounds like an artist statement draft that Smith tossed out. On the other hand, his script can be disarmingly honest. The strongest example is the sex scene in which the line, "Is that it?", keeps repeating.
By the way, the singing in a play so openly based on music (it's named for a Coldplay song.) is terrible. Thankfully, the meant-to-be-sad song between Lindsay (played by Saskia van Leeuwen) and Christopher (played by Nathan Tanner MacDonald) is brief.
Essentially, the play deals with the universal fear, spoken by Christopher: "I'm afraid I'll never be anything but ordinary." The play answers that fear through Christopher's friend, Toby (played by Shane Kumagai): "Then, step up." All the characters voice that simple message in their own way. Playing Oliver, the little brother, Kevin Fitzpatrick is the most affecting actor in this truthful drama.
Smith's writing can be oblique in that we don't know for sure what happened to the family. Even so, the point is made. People love each other, do their best and see how things pan out for each other. This universal theme is presented with raw honesty. So, rough edges are forgivable.
A Rush of Blood to the Head is part of this year's Toronto Fringe Festival and runs until July 11th. For more information rush here.

By Roselyn Kelada-Sedra