Richard Lett: Sober But Never Clean - Bravery, Humility and Pure Creative Spark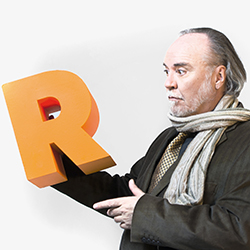 What I expected was stand-up, with a definite nod to the 12 steps of recovery, as so many comics before have been through. What I didn't expect was original songs, wrenched from the gut slam poetry forged in bodily fluids and the feverish imaginings of a person scraping through the mud, and tales of comrades on the same campaign, struggling with the same demons, searching for those angels of their better nature. Richard Lett has been a moderately successful stand-up comic for several decades, but like so many performers, courage, creativity and reactions came supercharged from external chemical changes. Not exactly news, right? What is news is the bravery, humility and pure spark of creativity that his show delivered to a petite, but mightily influential and supportive crowd at the Rio Theatre.
Lett reveals his story from the earliest moments; the first fold in the origami of our lives is usually made by a loved one. And crazy is passed down, lovingly heirloomed from theoretically well-meaning caregivers, who don't know their own crap from the hole in the ground they end up in, as well as the ones that their closest connections get lowered into. Lett's show is crisp and raw, delivered across three disparate virtual lighting venues perpendicular to the audience. The stand-up stool (where else do you park the drinks?), the slam spotlight, and the keyboardist's lament punctuated the modes of his journey through awareness to acceptance and healing. Using poetry, song, story and most importantly, great heart, Lett guides his audience through the swamps of self-destruction and into the safe harbour of redemption and self-acceptance. And it looks like the benefits on completion of this journey will be personally valuable, as well as both inspirational and practical for others travelling the same sea lanes. Oh, and he does the best Tom Waits impression I have ever heard.
Come see this show; at time of writing, there are 5 more performances. You'll laugh, you might cry, and you'll certainly leave with a feeling of warmth that yes, it can get better. He's playing at the Rio all this week (dark Monday night).
By Bruce M. Campbell