Re/Naissance: no soft-core metaphor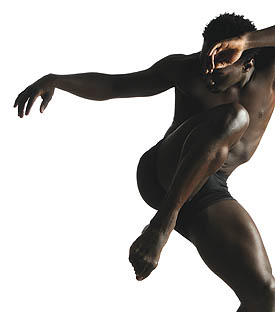 The directors behind Ballet BC meant it when they chose the title Re/Naissance. No soft-core metaphor here.
In the opening moments of the second performance, "Things I Told Nobody," we see a body spot-lit under one low-hanging light; slowly, we sense the dancer, fetus-like on the floor and dressed in neutral swaddling, is not alone on stage. Other lights begin to shine. They're dim but create the illusion of one body reflected in a prism or the image of countless bodies coming to life in a honeycomb.
Then, as if creation stories aren't already flooding the mind, we get meta-drama at its finest. The dancers, a dozen or so, stand with the first and turn the low-hung lamps upon the audience, a panoply of sunshine.
Re/Naissance, write Emily Molnar and Jay Rankin, the directors setting the future course for Ballet BC, was "deliberately chosen to reflect the re-birth of the company." Well, nicely done.   
The three acts were deliberately chosen: "Herman Schermann", "Things I Told Nobody" and "Short Works: 24." In simplified terms, BC Ballet has staged life and time, talent, artistic vision and commitment to contemporary dance.
The confidence was obvious and perhaps best captured in the cheeky bravado of two sun-flower-yellow skirts (and the flash of cheek each time a male dancer jumped and spun). This shot of colour in "Herman Schermann" came with the typical discordant and atonal percussion of choreographer William Forsythe. Like they were keeping time, the dancers moved as if mechanized, wound-up by a knob in the back, and set lose with pendulum arms and computerized legs.
The ensemble was not always on cue and didn't seem to hit their spots. There was an air of under-rehearsal. The closing pas-de-deux (which brought us the sass of yellow) with Makaila Wallace and Donald Sales was better; especially Sales, who was effortless and playful.
The second act — "Things I Told Nobody" by choreographer Itzik Galili — was the strongest of the three and balanced the bold, experimental numbers in its use of classical music, pointe and contemporary beauty. It's here that the sun shines. I was breathless—as I am for all the Galili performances I've seen — and wanted more.
As if conscious of time and the precious opportunities we're all given, Re/Naissance closed the night with "Short Works: 24," a confetti bomb of industrialized play. Light-hearted but extremely physical, carnivalesque and comic, 24 is quite literal in its title. Crystal Pite has choreographed two dozen small installations that evoke animals (inch worms, flocks of birds and, bizarrely, a costumed bear), broken bodies, Canadiana, prepubescence and, above all else, play.
Looking ahead to the 2010/11 season, Molnar and Rankin are right to call it ambitious. This company was looking bankruptcy (and worse) squarely in the face; they have nothing to lose. Stakes—and hopes—are high
By Megan Stewart