Refuge of Lies: the thin line between refreshing and cliche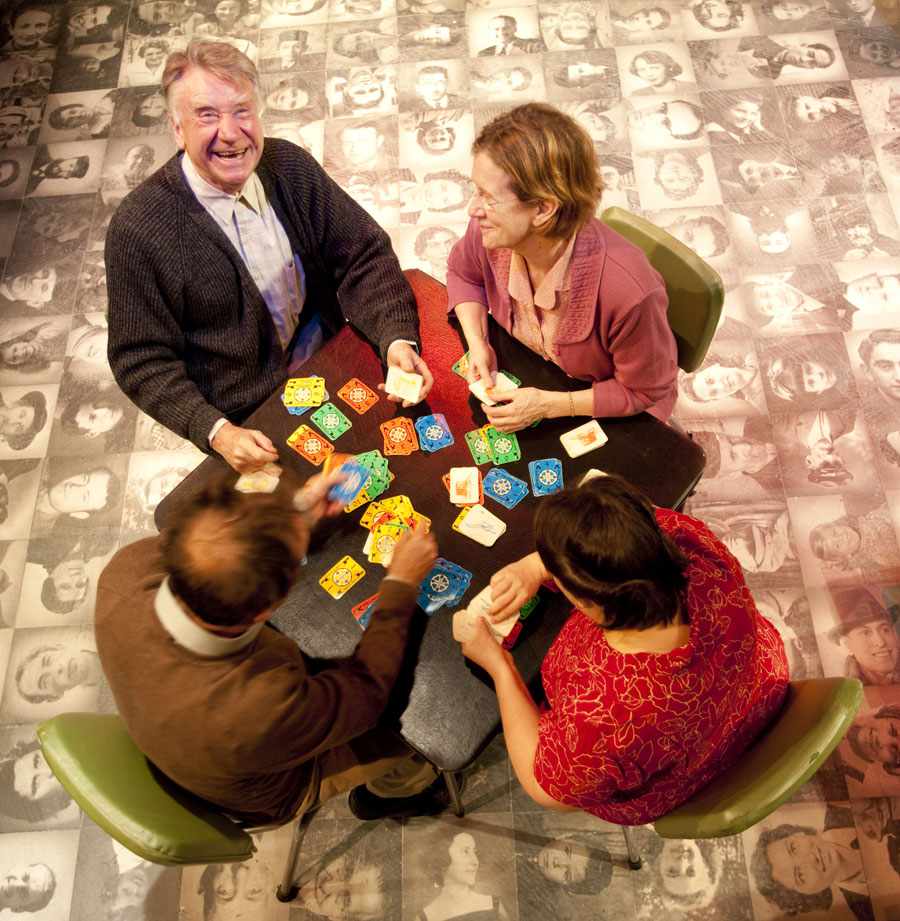 This isn't easy material. Refuge of Lies explores a story that hits close to home and it's clear that writer/director Ron Reed feels passionately about the show's subject. Inspired by actual events that took place in Vancouver, Refuge of Lies, currently on at Pacific Theatre, tells the story of a Nazi soldier on the run from his past. But the past catches up with him, as pasts are wont to do, in the form of a reporter on a quest for justice.
Refuge begins with two couples, the Vanderwaals and the Groenings, playing a card game in a comfortable kitchen. Rudy Vanderwall (Terence Kelly) has a brief memory lapse - an orthodox Jew clutching a baby confronts him and then disappears - and it is clear that beneath this idyllic picture lies a dark secret. It's not long before Simon Katzman (Howard Siegel), a Dutch reporter, comes knocking on Rudy's door and the central conflict is introduced. Rudy is a war criminal who fled Europe, first to Paraguay, where he converted to Christianity, and then, concealing his past so he could immigrate, to Canada. Katzman has uncovered Rudy's secret and is determined to bring him to justice. Complicating matters is Rudy's Mennonite church. His pastor wants him to take responsibility for his past whereas the Groenings are determined to aid and protect him in any way possible. Through a series of flashbacks we learn of Rudy's journey from a young man in Holland being raised by an anti-Semitic father to working with the Nazis to fleeing Europe. As the show progresses, and Rudy's guilt begins to weigh on him, his grip on reality slips and he is bombarded with hallucinations and distortions of his memories.
Refuge of Lies is a fairly tight 2 hours and Reed does an admirable job of weaving past and present in a way that is confusing at first but rewarding as we put the puzzle pieces together. However, more clarity off the top would only aid in the telling of the story and help curtail all the confused head-scratching at intermission. The story clips along at a fairly brisk pace and transitions are well executed especially given what a complicated space Pacific Theatre can be. The bombastic climax revels in tension as the theatre is turned into the nightmarish soundscape of Rudy's mind. It's evocative and it works. Unfortunately, by this point, pathos for Rudy is low as he wallows in willful denial. Moreover, the denouement is disappointing and an anticlimactic finale results in the audience not knowing that the show has ended.
The weakest parts of Refuge of Lies are the scenes between Katzman and his niece Rachel (Erin Germaine Mahoney). These repetitive scenes circle around the same arguments and are riddled with clichéd dialogue borrowed from countless TV movies of the week. Rachel is characterized as simply a wholesome earnest young woman and Mahoney has little to work with when trying to bring to life this one dimensional character. As well, Anna Hagan seems to be wasted in the role of Rudy's wife, Netty. She has little to do other than be a supportive, docile wife and the complexity of this situation would demand more from this character no matter how docile or supportive she might be. In fact, if I never see the 'supportive wife' in another production for as long as I live it would be too soon.  
Despite its flaws Refuge of Lies offers a topical and relevant story. Pacific Theatre should be commended for doing new work that tackles current issues. Something that is far too often missing from the Vancouver theatrical landscape. I would challenge the larger Vancouver theatre companies to do the same. We're a smart group. We can take it.
Refuge of Lies, written and directed by Ron Reed. A Pacific Theatre production it continues until May 1. For more information go here.
 
By Sebastien Archibald