Redheaded Stepchild:clever ginger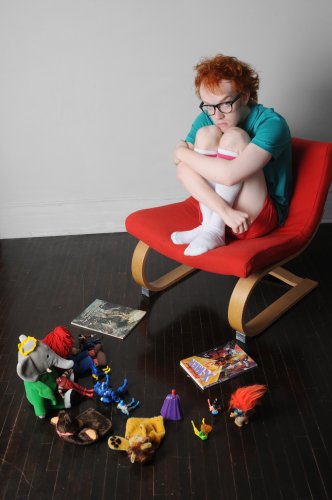 "I am an atypical child," Nicholas, our protagonist, tells us. And yet there's something deeply familiar about him. In this young and somewhat skeletal production (currently on at SummerWorks), creator/performer Johnnie Walker introduces us to the titular young redhead discovering his budding homosexuality while navigating otherness. And he demonstrates sizeable talent in the process. Walker's physical awkwardness works wonderfully for the misfit Nicholas, though with less success as his alterego Rufus Vermilion, who could use more precision and a physical status to match his suave flamboyance. Maryanne, Nicholas' new stepmom is simply delicious under the direction of Morgan Norwich. There were moments where I truly forgot I was watching the same actor go at it.
Walker has already proven himself as a capable playwright and this work is no exception: rather than grating, the plentiful ginger puns are clever and generously shape Rufus' sensibility. Rufus himself is hugely reminiscent of Walker's own drag alterego Ginger Darling (whom I would strongly recommend checking out at the next Boylesque show).
However something about the overall feel of the piece is entirely too familiar, dare I say at times derivative: I, Claudia with less masks and more red hair. The solo show about a young person being bullied is a difficult form especially with such tried and true examples already on offer. As Walker continues working out this draft (already having had development through the Banff Centre and CanStage), I'm certain he'll mine more of his own uniqueness.
Redheaded Stepchild is on as part of this year's SummerWorks Festival. For more information go here.
By Dave Deveau