Razzle Tassle Tease Show: A Talented Trio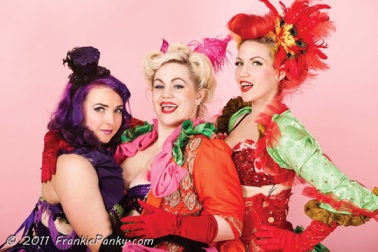 The talented burlesque trio of April O'Peel, Melody Mangler and Violet Femme are back again in this fun and raunchy neo-cabaret spectacular at the Vancouver Fringe Festival. Inspired by a collection of performance styles, including circus, B-movies, baggy pants comedians, and classic striptease, the Razzle Tassle Tease Show will certainly keep you entertained, no matter what your sexual orientation!
The theatre is dimly lit with cabaret seating (tables and chairs), so feel free to bring that glass of wine you purchased before the show in with you. The opening number is punchy and amusing, as the three performers enter the stage behind rolling 'change rooms' and offer us their first choreographed strip-tease. Their manner is cheeky and it's obvious from their grinning faces that they thoroughly enjoy their interaction with the audience, who hoot and cheer and whistle throughout each act.
The show continues act by act and we're introduced to the girls' additional talents, which include singing, miming, and slapstick comedy, in between scenes of classic strip-tease in which brightly coloured, extravagant costumes and head pieces are flaunted. While no storyline exists in this cabaret performance, the Razzle Tassle Tease Show can certainly be seen as a celebration of the female form in its many shapes and sizes through it's three main performers and the parts they play. However, you may also think it a little self-indulgent – like I did.  But what the heck – it's still a great way to spend an afternoon or evening, regardless!
 
By Keira Louis