The Positive of Power Thinking - Begins With A Bang, But Burns Out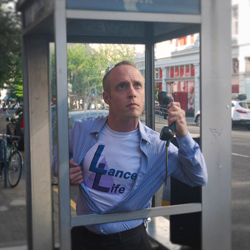 The Positive of Power Thinking is a 70-minute play written by Wallace Fessler and Joshua Fisher that runs at Performance Works. It stars Lance Banks who is an egotistic, smarmy motivational speaker, here to get your life on track with the help of his assistant Dave. Together, they demonstrate the power of the LanceLifeTotal Life System program and how it can make you more money, more powerful, more material possessions and more dependent on their multi-step program to success.
The format and idea behind this show is brilliant. There's nothing more theatrical than motivational speakers and nothing funnier than a straight-up parody of one. Lance Banks starts the show by running laps around the audience, getting us pumped, which immediately got me excited and ready to revel in the ridiculousness of this lifestyle program. The word play is hilarious ("Turn those weaknesses in strengthnesses") and delivered with powerful deadpan precision by the actor playing Lance Banks (there was no program for me to find his name). There is a lot of funny and moronic word play and delicious sarcasm about life-improvement plans. I was having a ball.
Until the energy started burning out.
Maybe it was because this was their first show or it was pretty late in the night, but Lance Banks's energy flatlined about half way through and I found myself gradually less motivated to keep watching. The trick with motivational speakers is to keep the audience pumped, to incite us, but that requires a lot of energy, especially for a show that runs over an hour.
There were also a lot of deviations from the LanceLife seminar--unfortunate because it's the most interesting part of the show. Lance would pull his assistant Dave onto the stage to demonstrate the success of his program, but Dave would frustrate the process, making Lance look like an idiot. I wasn't terribly interested in these parts of the story; they had a few good laughs but they went on for far too long. There is also segment where Lance Banks acts out an "Omni-tasking" scenario with himself on a video projection. This also went on too long and the timing lacked synchronicity with the action on stage.
By the end of the show, we see three storylines--the Lance Life program, the deteriorating relationship between Lance and Dave, and a lot of back story about Lance's older brother. We cycle back to the LanceLife program, but with such long digressions, I often forgot that was the core part of the show. I really wanted to see more of the LanceLife program and less about Lance's family history.
The production design, consisting mainly of a powerpoint presentation, is sloppy when compared to the wealthy success of the LanceLife program. But maybe that's the joke: either he's a brilliant con-man who's tricked thousands of idiots into his program, or he's an idiot whose tricked himself into thinking he has a brilliant program. The play seemed to be doing both. It would work better to go full throttle with just one approach.
Despite it's shortcomings, this is a hilarious show and certainly worth seeing. The sarcasm is beautiful and the content will keep you laughing. You just won't walk out with the same awe as you started.
By Matthew Willis