Where the Blood Mixes - beyond the grief play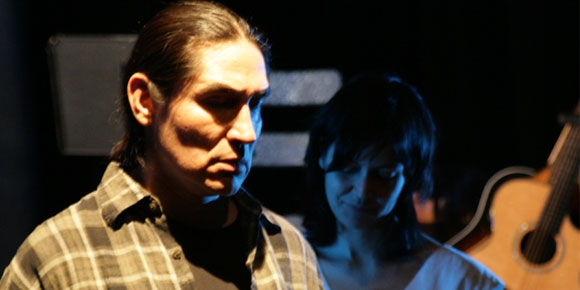 Here's a sobering fact about my allotted time on this planet: I was alive while the residential school system was in place in this country.
While I was growing up in the safe prosperity of multi-cultural Vancouver, other children – Canadian children – were being seized from their families and taken to church-run residential schools. The objective of these schools was assimilation and the outcome was often widespread physical and sexual abuse, not to mention dislocation from family and community. It is inconceivable to me that this country – you know the one championing human rights under Pearson and Trudeau – could behave in this manner to its own people. This was not some foreign country or some distant time. But right here, in this place, in my lifetime.
A rant is not always the best way to start a review but Where the Blood Mixes is one of those productions that transcend the usual creator/audience/reviewer relationship. The playwright, Kevin Loring, is a member of the N'lakap'mux First Nation, who live where the Thompson meets the Fraser at Lytton. He has created a work that explores the impact the residential school system has had on his community. Its eerie resonance with current events is demonstrated by the fact that the morning after I saw the Vancouver première, the front pages of the newspapers were devoted to Stephen Harper's apology – on behalf of the country – for the horrendous residential school system.
Where the Blood Mixes occupies that rare position: it is an event almost as much as a piece of art. This may frustrate Loring and his co-creators – artists want to be appraised for the quality of their work not just its topicality – but I don't see how it can be avoided. And this isn't simply because it's an aboriginal play or that it happens to coincide with some newspaper headlines. What puts Where the Blood Mixes into a special category is that tells a story that is of our time and our people (both aboriginal and non-aboriginal need to know about this part of our recent history). As Canadians, we need to see stories like this one, no matter how strong the compulsion is to avert our eyes. That is why Where the Blood Mixes is far more important than any half-baked import from the West End or Broadway could ever hope to be.
This doesn't mean that the play is critic-proof, far from it. Indeed, some of the play's shortcomings meant I was not fully engaged in the work as an emotional experience. I was, however, in the minority. Many in the audience were crying and a number looked shaken. Why wasn't I moved? Cynicism? Perhaps, but mostly it was my reaction to the rather cookie-cutter structure of the piece and the overly familiar writing in some of the crucial scenes. The play builds – like every grief drama of the last twenty years – to a big reconciliation scene that included the oft used "don't blame yourself". The production also wasn't helped by some of Glynis Leyshon's directorial choices. One particular awkward moment was when the guitarist (Jason Burnstick, on stage for the whole show) plays a lovely song while the four actors remain motionless. I felt particularly sorry for Quelemeia Sparrow as she had to stand there simpering for what seemed like five minutes. It all felt movie-of-the week mawkish. Even the inclusion of the guitarist – who was very talented – seemed awkward and I kept wondering exactly what he was doing there. Maybe for a staged reading this might be a nice touch but not for a full-production.
On the other hand, the things that Where the Blood Mixes does well it does very well indeed. The play effectively outlines the experience of a generation of survivors of the residential school system. It shows three individuals and their varying degrees of success at constructing their lives in a community that is both individually and collectively impoverished by the experience. It also neatly connects their experience with the subsequent generation – through a daughter who has been taken into care because her father is unable to cope. This is all handled quite deftly, although the focus on a single explanation – blaming the residential school system – is perhaps a bit too neat and tidy, life is usually messier than that. Alas, this kind of coding is in keeping with the Oprah-like confessional catharsis that is rife in playwrighting at the moment. Still, the influence of the original crime of stolen children and its direct link to a community's inability to look after itself is inescapable.
Another hugely successful element was Loring's ability to place the characters so comfortably within both the small-town bar (owned by a shama - a Salish word for white person – played by Tom McBeath) and the natural world that surrounds the community. The performances help immensely in this regard (although the mind-blowingly ugly, swirling powder blue set by Robert Lewis does not). In particular, Ben Cardinal manages to create a sense of natural honesty with Mooch, a character we've all encountered at one time or another: the slurring drunk, who steals his girlfriend's last loonie to pay for beer and who is ready to land misguided blows in a barroom brawl. But Loring gives Mooch far more than standard issued repressed, male pain. He is capable of great beauty and terrific storytelling. Mooch has a monologue about a fishing trip which is one of the highlights of the evening and shows Loring's writing to best effect. It was one of several moments in the script that lift the play beyond its standard grief play model. It does this, I believe, by reaching between the two worlds the characters inhabit. Mooch also ends the play with a haunting last line that perfectly captures the way people think and process grief. That Loring imbues what on the surface is such a familiar character with such believable depths is really to his credit.
Equally affecting are the moments between the two women characters, particularly when the older woman, June (Margo Kane), tells Christine (Sparrow) stories that turn the rocky, wild countryside around them into a mythical landscape. This scene is handled delicately and effectively by both playwright and performers. Christine has been raised "in the city" with shamas and Sparrow makes the character feel so hip and Vancouver that the moment she learns to see the world around her in a different way is quite beautiful. For me, these scenes work more effectively than the barroom stuff between Floyd (Billy Merasty) and Mooch.
A number of years ago I took a road-trip that included a stop at Lytton. We were looking for a cash machine and approached a building that looked like a bank. The door suddenly swung open and we were greeted by a man who introduced himself as Wayne. It seemed that Wayne was now living in the old bank building. He told us where the cash machine was located and where we could get something to eat. He was impressed that I was travelling with two women (it wasn't so impressive; one was my girlfriend, the other her sister). He encouraged us to come to the bar later that night. As an extra inducement, he told me there were strippers up from Vancouver.
Whatever its flaws, Where the Blood Mixes gave me a brief insight into Wayne, his community, their sadness and poetry. There is suddenly depth to my memory of that man standing in the doorway of an old bank and the beautiful landscape we drove through is also richer in my imagination.
Oh, and Mr Harper, apologizing for someone else's indiscretions is easy. If you're really sincere, how about honouring the Kelowna accord?
By Andrew Templeton