HIVE2 goes tantric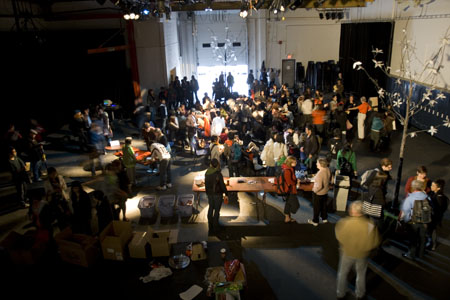 Some people – usually men and, in my experience, often English – like to make lists and rank things in order of excellence or bestness. In making their lists of the Greatest Movies Ever Made, they usually rank Godfather II ahead of the original Godfather for, of course, it is "the sequel that was better than the original".
Personally, I could never choose between the two Godfather films (in my world there is no III). Which was better? Who cares? I love them both. The first Godfather had great narrative thrust and plenty of verve while the second had a sense of grandeur and scope that made it an altogether different experience.
And that's not a bad analogy when comparing HIVE to HIVE2. HIVE had bags of energy, crowded rooms, wonderful confusion and shoestring productions fired with inspiration and fun. The concept of HIVE was of a central hub – a bar – with eleven, a la carte short performances going on simultaneously in different rooms. Just as the first Godfather film changed the landscape of American filmmaking in the 1970s, HIVE changed the landscape of theatre here in Vancouver in the noughties (or whatever we're supposed to call this decade). HIVE altered perceptions about where theatre was located in this city. We haven't got a theatre quarter, street or even building but we do have a generation of pretty cool devised and creation-based theatre artists scattered around the place who are creating exciting, original work. The fact that most of them are in their forties or younger means that the best work is still to come.
Like Godfather II, HIVE2 benefits from a bigger budget and a bigger canvas. Out goes the frantic intimacy of the Chapel and in comes the vastness of the Hanger (part of the new Great Northern Way Campus). The change of location dramatically alters the dynamic of the experience. Where the focus of the first HIVE – for me at least – was as much on the collective experience of being at the event (ie it was enough to just hang out), HIVE2 is much more about creating a frame in which to present eleven separate productions. The space allows the companies to exercise far greater control over the environment and many of them, including the Electric Company and Leaky Heaven actually build their own mini-performance spaces. Others, such as Rumble, Radix and especially neworld directly use the space or refer to its industrial past in their work.
If the first HIVE with its chaos and spontaneity felt like somewhere else, like New York say, HIVE2 feels very Vancouver. The environment is much more controlled and easier to navigate, everything works more efficiently (you can quickly figure out how to access most shows and with the exception of those companies such as The Only Animal and Western Conspiracy, who had to force strict limits on their number, you could get into most shows).
Even the space itself, part of the old Finning Factory lands near the rail-tracks, feels more readily Vancouver. The vibe at HIVE2 is much more relaxed and a little less Darwinian and that's okay with me. Perhaps the single greatest benefit: the run is longer and more people will be able to see more work.
I don't want to create the impression that HIVE 2 was all Swiss efficiency. It still has that definite carnival, edge of town feel to it and the bar space is very cool, with projections and music. It's just that the carnival itself is now better organized. And, when all the shows came down at 10:00 the bar filled with people and a concert broke out.
In the interest of full disclosure, I'm in varying degrees of conflict of interest in reviewing many of the companies whose work I did see in that I've either worked for them or with the artists they've employed, submitted work to or just hung around with them. So, in keeping with the fact I'm male and did live in England for a long time, I've got around this dilemma by coming up with my own sort of list, of the shows that I did see (in the exact order I saw them):
THEATRE SKAM: an intense satire set in a garish world, which I would have laughed at more if Raphael Kepinski wasn't so frightening. Sharp writing (by Jacob Richmond) but, I'm afraid comes second to neworld in "flipping the bird to the Olympics" category. I also have a strange weakness for cheerleaders, so that was fun.
RADIX: as you'd expect, best direct audience experience (you're actually put to work for the XIDAR corporation in the packing factory); best use of corporate video. A transforming experience is also part of the package. They were the kindest bosses you could imagine.
LEAKY HEAVEN: the strange and not entirely unexpected cult of Billy Marchenski starts to flower fully. He seems to have picked up a follower, a Mr Small. The smell of bodies only adds to the sideshow seediness. Best use of mirrored floor and special mention for creative use of stigmata in a secular setting.
RUMBLE: perhaps the most naturalistic piece I saw but, ironically, one that made the best use of location. Best laugh out loud lines: characters are maybe only survivors after an all encompassing disaster; they start to list the attributes they will need to survive (strength, cunning). One woman offers up asthma, the second that "she's a good listener." Fabulous!
THEATRE CONSPIRACY: you have to get an armband to see their show and I had one. The soldier-woman who gave it to me promised not to pull me out of a show if I was about to go into one. She came up to me and demanded that I come with her. I was just about to go into the Electric Company show and refused. She took my armband away. I was relieved. The work seems to involve sensory deprivation. She does get special award for being scary.
ELECTRIC COMPANY: best exploration of the breakdown of narrative (it's sort of companion piece to Palace Grand). Best use of a multiple actors, it's like watching a strange, beautiful dance down a long hallway. Best evocation of another time. I felt like I had gone back to the 1910s, in a small theatre with no seats.
NEWORLD: first place "flipping the bird to the Olympics"; special mention for actually explaining the history of where we were standing at that moment. Grand Jury Prize for kicking the crap out of real estate agents. Lingering question, what exactly did Derek Johnston do to neworld?
ONLY ANIMAL: best use of sensory deprivation (sorry Theatre Conspiracy); most beautiful moment award (no apologies for that one) and a lovely way to end the evening; best use of sand.
So which was better? HIVE or HIVE2? Well, I'm going to drop the Godfather analogies and talk about sex. The first time you have sex with someone is pretty exciting – but the second time is often more fulfilling. So, if HIVE was random sex with a stranger in a parking lot, HIVE 2 was tantric sex with someone you love.
_A Magnetic North Presentation, HIVE2 is performed by Vancouver's Boca del Lupo, Electric Company, Felix Culpa, Leaky Heaven Circus, neworldtheatre, The Only Animal, Radix, Rumble Productions, Theatre Replacement, Theatre Conspiracy and Victoria's Theatre Skam._
By Andrew Templeton