An Evening with Uncle Val - to June 8th at Presentation House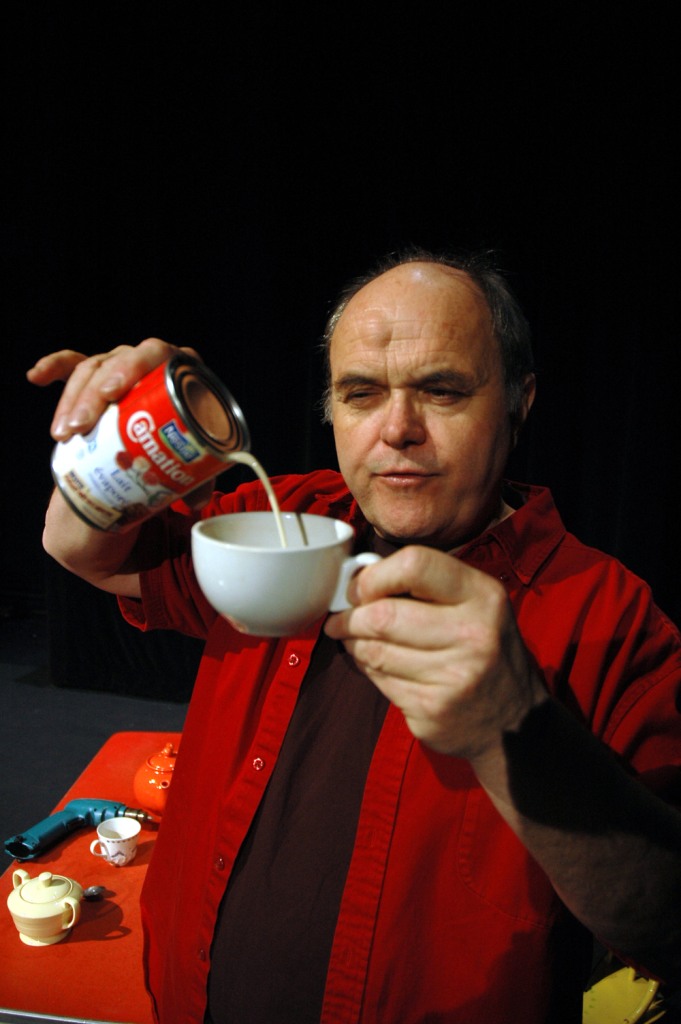 Well, I was feeling good about my review assignment last night. Andy Jones' show An Evening with Uncle Val was up at Presentation House promising a dose of Newfoundland comedy.
I know all about Newfoundland. Heck, I lived in Halifax for two years, so that's real expertise, right? And I saw a movie about the place once. There were a bunch of academics, (historians, actually) and they were sleeping around and stealing primary documents from each other, which you should never, never do, and Joey Smallwood was there, in a snowstorm, and then someone burned all the evidence which proved the vote to join Confederation was rigged, and god, that was a nail-biting night at the local cinema, let me tell you.
But you can't be biting your nails every night, and there's no shame in a cozy night with a good story instead, especially if the night is cold, which it was at Presentation House last night, even inside. There's no shame in knowing nothing too earth-shattering is going to happen. Kind of like reading a fine murder mystery in which someone forgot to write in a corpse.
Gee, there's no shame, even, in deciding you like the suburbs after all. Uncle Val comes to that, after moving to St. John's to live with his daughter and her family. He starts out writing to his old friend Jack: "help, I'm a prisoner in St. John's", but after discovering a new life in the suburbs, and a new place in the family, he believes "no king could ask for anything more." Just like his grandfather walked baby Val to sleep on the "jagged lullaby" of rocks at the ocean's edge, so Val walks his grandson to sleep on the crushed rock of a suburban driveway, and finds a new love for life in the process.
Throughout, Andy Jones comments on his own narration and staging of the play, letting us know that Uncle Val was his answer to an attempt by a generation of Newfoundland artists to mine their province's "cultural narrative." They were the first generation of Newfoundlanders who grew up Canadian, and they sought to express their place in Confederation by "drinking deep from the great narrative river" that feeds Newfoundland and Labrador's storytelling tradition. But in a tradition that emphasizes outports and fish, what's a guy from the suburbs to do? Put an old fisherman in the suburbs, and write about that. Andy Jones has done so, for decades, with great success.
Jones knows he's part of what he calls "The Parliament of Cultural Romance" in Newfoundland arts, and a romance it is, with a warm heart, a soft chair, and some Vaseline on the lens to make things just a little bit blurry. He's got a playful theory for the kind of storytelling he does – he calls it Cubist theatre, to justify his narrative meandering, but it doesn't really matter if it has a name or not. He's funny, and we like him, although I have no idea why Magnetic North has programmed this as part of their national festival, which purports to show the best of contemporary theatre in Canada. Mag North was in Newfoundland two years ago and I'm sure there was more adventurous theatre on the boards then. I can only assume that programming An Evening with Uncle Val here is an attempt to provide a wide range of theatre so that as many people as possible can find something to their taste on the program. Well, there's a great deal to commend in that.
After spending an evening with Uncle Val, I didn't learn a lot new about that rock at the edge of our country, to add to my dangerously small smattering of ideas about Newfoundland. I mostly learned what I expected to learn. Joey Smallwood did make an appearance. They apparently still worry about the fish, they still argue about Confederation, and everyone's still moving away. Surely that can't be all we need to know?
_An Andy Jones Productions presentation. An Evening with Uncle Val, written by Andy Jones and Michael Jones Sr. Performed by Andy Jones. Direction and dramaturgy by Lois Brown. At the Magnetic North Theatre Festival, Presentation House Theatre, June 5-8, 2008._
By Anna Russell