The PLANK Panel go to the Toronto Sketch Comedy Festival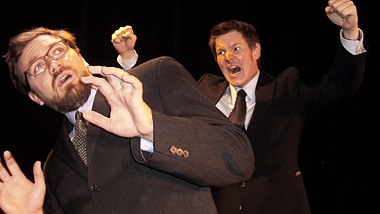 Justin: This has got to be one of my favourite festivals of the year. It may not be as gargantuan as Luminato, nor as circus-like as the Fringe, nor as heady as SummerWorks, but for sheer entertainment value it is hard to beat. Just for Laughs makes for an obvious comparison, but their focus is primarily on standup. Although standup and sketch share the common goal of laughter, the two are entirely different creatures and I love the fact that sketch and its dedicated practitioners have their own week to shine.
I had a great time this year, what about you?
Ryan: I enjoyed an unprecedented streak of awesome groups this year, and I've got the aching ribs to prove it. This was certainly a pleasant surprise, given that most of the troupes I saw were entirely new to me – a gamble that didn't pan out nearly so well last year. As for my chosen crème de la crème...
Hits
Ryan:
THE REGULARS
Easily my favourite experience of this year's fest, The Regulars managed to walk the tightrope of great writing, perfect pacing, and excellent group chemistry, without once faltering throughout their set. Despite their modest name, this quartet managed to cover a wide range of comedic bases with aplomb. They presented more straightforward material, such as a sketch wherein Freddy Krueger trades in his glove for a coat hanger, as well as bizarre premises like a member going spontaneously blind in the middle of an improv set. 24: The Musical was easily one of the most creative bits I experienced this year, though due kudos must be given to their ability to have the audience rolling in the aisles over a sketch that is simply two men trying to fold a blanket.
punchDRYSDALE
The boys of punchDRYSDALE earn significant bonus points for the meticulous manipulation of their testosterone-laden image, with sketches that both indulge in their overt testosterone and turn it on its ear in bouts of amazing self-awareness. The duo's age-old bromance creates a foundation of undeniable compatibility, creating an effortless energy that allows them to pull of bits focused entirely around jerking off or the visual humour of gay porn slideshows. However for each element of machismo, there is a sharp balance of dry self-aware wit. The contrast was best exemplified in a skit entitled Dr. Retarded, wherein the unfortunately-named MD doled out helpful medical information while the audience waited in vain for a punchline.
APPROXIMATELY THREE PETERS
Peter, Peter, and Ian managed to parlay their name – already one of the best out there – into a visually dynamic James Bond opening sequence that kicked off their set with an undeniable high note. Luckily they managed to continually hurdle the high bar they'd set for themselves, with sketches involving a post-mortem intervention/séance for a belligerent alcoholic friend, and an amazing defense of men who are only capable of growing shitty beards. The Peters have had a few years to hone their cerebral wit into a strong repertoire, embracing the self-conscious academic vibe to maximum effect.
LADYSTACHE
This troupe's name isn't just a wacky portmanteau – there were ladies in mustaches aplenty throughout their set, and they owned the conventional genderswap trop like nobody's business. The duo of Allison Hogg and Steph Tolev spent a lot of time swaggering around with macho bravado for a duo that boasts a repertoire of non-gender-specific comedy, but they did steer completely clear of the more archetypical female-centric comedic subjects.
PUNCH IN THE BOX
On the other hand, the all-female lineup of Punch on the Box proudly embraced the estrogen-centric topics that some girl groups avoid, reclaiming topics like breakups, breast cancer, and bridesmaidhood with bravura. The team of Second City alum know how to massage fresh laughs out of clichés, while peppering their material with clever, topical bits on poking fun at everything from Facebook to Canadian television.
VEST OF FRIENDS
Comprised of students from the  Humber School of Comedy, Vest of Friends won their coveted slot in the festival through competition – and their excitement at having taken the prize was palpable. The group occasionally steered towards more off-colour shock material, but their sheer enthusiasm kept their laughs on course. The jewel of their set was easily Tim Horton Hears a Who, a clever Seussian tribute to the ubiquity of the coffee house chain (though perhaps a sloppy critique of multiculturalism).
Justin:
REVERSE OREO
Appropriate cast composition (one white male, one black male, and one white female) can be given credit for the clever name of this relatively new troupe. Youthful energy abounds in their sketches, and their writing is nothing to sneer at either. A bit utilizing a horrendously lumpy fat suit and satirizing the Laura Secord Heritage Minute tv spot made for an audience favourite, as did a send up of a snooty BBC culture program in which the performers proved that "Helen Mirren" can be pronounced at least twenty different ways.
TODD'S LUNCH
These veterans did not deliver the most polished set, but it didn't have a bearing on the end result. One way of describing their style could be 'dude comedy - refined'. Slow and deliberately awkward scenes flirt with the audience's patience, but never quite crossed the line. A call in show featuring a medical doctor with a challenging last name demonstrated that a single joke can in fact be drawn out to extremes with hysterical results.
ACCIDENTAL COMPANY
Although not as strong as their last year's set, this duo still showed off with great chemistry, above average performances, and tight writing full of linguistic flourishes. My personal favourite was a rapid fire scene about two humourless cubicle drones going through the motions of a 45 second office birthday party. It's the kind of demanding scene that makes it plainly obvious that these guys take their craft seriously.
SHOELESS COMPANY
Shoeless is a large ensemble and they are not afraid to use their size to their advantage, such as in their opening scene in which the idyllic lives of wild flowers are thrown into chaos by a lovelorn and petal picking maiden. Costumes and impressive choreography are also part of their modus operandi, giving their material an impressive theatrical quality.
FALCON POWDER
These three pros betray their roots with a style that is best described as Second City-esque, but that is certainly not meant as a slight. Their material is good, but it's their spot on comedic instincts that set them apart. I give them kudos for the particularly well executed use of an off-stage mic in a bit about a plane surrounded by gorillas; theatre of the mind at its funniest.
STATUTORY JAPE
Questionable taste in troupe names aside, these guys grow on me more every time I see them. It's tempting to label their material as geek-humour, however it possesses an intellectual hue that elevates it beyond said designation. Two of my favourite sketches of the entire festival were courtesy of Jape. The first, about a lowly office worker who is tortured by the seemingly endless work week relived ad nauseam and at an increasingly manic pace. The second, a prom scene set in "Franz Kafka High"; proms have never been so hilariously ridden with existential angst.
PETER AND CHRIS
I know these guys are already familiar faces on the Vancouver comedy scene, and I hope they will gain a foothold here too. Eccentric writing, great choreography, palpable chemistry, a narrative through-line, and some epic staging (a nod to the Matrix in the form of a chase scene was particularly memorable) all contributed to a delightful set. They have an innocent quality that makes them very affable, but never bland.
FUCT
This memorable gang of New Yorkers are back with a vengeance. Thanks to some base and very nearly sadomasochistic material (they open every show by pulling back a giant length of elastic medical tubing and snapping it against the bare chest of one of their members) they have no doubt been previously compared to Jackass, but do not be fooled - there are some very sharp sketches amongst the side-show antics. "Bobo the Sad Clown" was a particular highlight, cleverly combining slapstick and weltschmerz. FUCT may be more than some audiences can handle, but they were without question the most fearless troupe of the festival.
DEADPAN POWERPOINT
Although I felt that this straight-laced duo presented a stronger set last year, they nevertheless managed to impress with their flat-line performances, high-concept material, and unexpected use of found images. Snazzy and stylized dialogue delivered with earnest gravitas makes their "lectures" a unique treat.
The Misses
Ryan: As I mentioned, I had a streak of great luck this year, keeping my entries in this category thankfully low. I didn't encounter any outright disappointing troupes, though there were a few that didn't quite bring home the giggles:
PLUM THUNDER
The only boy/girl duo I encountered this year, Plum Thunder's one-note material aimed for easy laughs and suffered from systematically poor timing. Acting drunk or angry can be a good comedic premise, but should not be relied upon as the sole source of laughs. For their closing skit the duo foreswore writing entirely and indulged in a campy So You Think You Can Dance? audition, which felt more like an effort to run out the clock than an appropriate closing number.
NEWSTADAMUS
It pains me to count this LA troupe among the misses – the team's natural charm makes me want to like them, and the sheer effort of bringing a nine-person squad across the continent is accolade-worthy unto itself. Unfortunately the group (who felt pretty cramped on the Comedy Bar stage) didn't try anything challenging, instead focusing on a lowest common denominator approach and relying upon the conceit of their superior numbers. One topical gem came in the form of a Tea Party skit, but it was too little, too late.
LADYSTACHE
I know, I've counted the 'stached ladies twice here. By and large this duo did a fantastic job, but they crept into the Misses category as well due to one epic bomb of a sketch involving a stuffed dog who repeatedly mauled her owner's visitors. Poor transitions, a lack of punchline, and one pre-emptive fade to black drew several groans from the audience. Excise the dog bit, and these ladies had a perfect set otherwise.
Justin: I was also fortunate enough to catch way more good troupes than bad, and didn't see anything truly cringe worthy. Nevertheless I was still disappointed by:
BIG TEASE
Although this young trio are charmingly quirky, their premise of fake "edutainment" based-sketches were lacking that elusive comedic energy. More punchlines and fewer strained smiles would have elevated their over-acted set substantially. Having said that, a repeating gag about each member leaving the group for different reasons but each involving the same sports jacket and a guy named Chad was one of their more clever bits and evidence that Big Tease certainly has potential to grow.
OUT OF THE GUTTER COMEDY
I agree with you about Newstradamus, especially your comment about it being a shame that they travelled so far just to underwhelm. For that same reason I'm equally disappointed to have to add this group of Bostonians to my misses list. Unfortunately their one note set started with promise but wore thin in a hurry. One, maybe two sketches about the old-country eccentricities of Portuguese parents would have been fine. An entire set based on that premise (and that was quite literally the gist of every one of their sketches) is the definition of overkill. If variety is the spice of life, these guys were dishing up cream of wheat.
Notable Individual Performers
Ryan: Ian MacIntyre of Approximately Three Peters definitely won some notable favour with his righteous Shitty Beards rant, showing as much skill as an impassioned orator as a sketch comedian. Plus, acknowledgement is clearly due simply for his willingness to be approximated for the sake of convenience.
Allison Hogg of Ladystache also deserves recognition for pulling off the "straight man" motif opposite Stephanie Tolev's gregariousness with aplomb. Many of their sketches relied upon the dynamic, a scenario that can often lead to spotlight-stealing but which the duo deftly avoided.
Last year my honourable mention went to Comedy Bar co-owner and nightly host Gary Rideout Jr. for his tireless efforts between acts. This year Gary returned to this thankless duty, though unfortunately with notably less vigor (or possibly just fewer hecklers upon which to demonstrate his skills). Instead my accolades this year go to Mark Andrada, the Comedy Bar's technical manager and Abbott to Gary's Costello. Despite his existing primarily as a disembodied voice quipping criticisms at Gary's on-stage work, Mark stole the bulk of the laughs  at Gary's good-natured expense.
Furthermore, Mark went to town and beyond with his new toys this year, beginning each show with flashy laser shows and billowing smoke – a bit excessive in a subterranean venue, but his kid-at-Christmas glee was palpable.
Justin: I made note of a lot by a lot of people this year; Pat Thorton of Todd' Lunch for his unique ability to combine the qualities of the buffoon and the perplexed straight man within the same character, the entire cast of Statutory Jape for their energized presence and unabashedly geeky sensibilities (and I mean that as a genuine compliment), and perhaps most of all, Graham Skipper of FUCT who possesses an intangible John Belushi quality. Skipper's focussed intensity and thousand-yard stare allowed him to get laughs without lifting a finger (although he was forced to eat some canned fish) and I applaud him for his understanding that being completely serious in an absurd situation is often far funnier than hamming it up.
Weirdest Sketch
Ryan: Hands down, this crown goes to Ladystache again for a wholly unexpected (and slightly incomprehensible) interlude in their set, during which a pair of (obviously mustachioed) puppets enthusiastically attended a dildo to the pumping tune of Thunderheist's "Jerk It". I don't want to say the song has been ruined for me, but it's a mental association that I doubt I'll ever shed.
Justin: I have a feeling FUCT may have trumped Ladystache with "Cock Fight" which was not so much a sketch as it was a game in which two of the male troupe members wearing nothing but rooster masks, scuba flippers, and tennis balls over the ends of their penises attempt to knock the tennis ball off their opponent's penis using flailing kicks. A great leap forward for oddity, a tremendous step back for dignity.
Musical Number
Ryan: Injecting a bit of song and dance into a repertoire is a risky gambit; it can flop painfully (as with Plum Thunder's slapstick dance number) or just bemuse (a la Ladystache's raunch puppets). However hitting the perfect synthesis of wit and ambition is comedy gold, which The Regulars struck in spades with their stage musical tribute to Jack Bauer. Bellowing terrorists, a rapping hostage president, and some hilariously bad fight choreography made their sketch not only hilarious, but something I'd happily watch if parlayed into a full-length show.
Justin: Accidental Company delivered one sketch called "Ordinary Day: The Musical" which gave the mundane the Broadway treatment. Although a little sparse on choreography and singing ability, Accidental Company did impress with their lyrics, specifically a very Seinfeldian number called "This room smells kind of weird". Runner up goes to Falcon Powder for their implausibly uber-tragic miner's shanty - not a true musical number but still noteworthy, and surprisingly well sung.
 
By Justin Haigh & Ryan West