The Plank Panel go to August: Osage County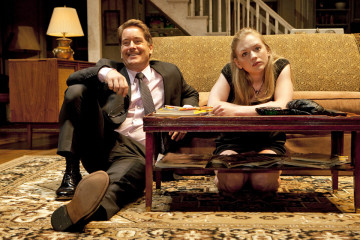 Your PLANK Panel taking on Steppenwolf's production of August: Osage County are Ashleigh Dalton and Justin Haigh
Ashleigh: I vividly remember the first time I read T.S. Eliot.  There was something dark and yet playful in his poetry that appealed to me, then 17 years old and an aspiring writer.  I wanted to infuse everything I wrote with elements from Eliot - words, repetitions, themes.  Writer Tracy Letts seemed equally inspired by Eliot, with lines from The Hollow Men starting and ending his play August: Osage County.  Eliot was, perhaps, an apt choice to appear throughout Letts' tragicomedy.  August is a dark serious play with just enough jokes to distract from the sense of tragedy and lighten the mood.
Justin: Eliot was never that profound an influence in my literary upbringing, but we do share the feeling that he is a perfect match for this play. The way his works incorporate whimsy with more sinister elements compliments the mood that Letts has created perfectly. To find that line between comedy and darkness, and to make both modes work, is the sign of a good writer. I particularly enjoyed the gentle rhythm with which Letts' imbued the dialogue, but without any hints of artifice. I thought Letts' greatest triumph was the fact that the story actually gets more compelling the longer the show goes on. I think a lot of writers run out of creative steam after one and a half acts; the fact that Letts produced three, each of which are more gripping than the last is as good a burden of proof as any that his Tony and Pulitzer prizes were well deserved.
Ashleigh: The play opens with a monologue from family patriarch Beverly Weston, reflecting on his relationship with his wife: "She takes pills and I drink...it's our marriage contract."  Like old man Beverly, August: Osage County is sharp, cynical and bitter.  The play centres on a chaotic Oklahoma family fraught with dysfunction, including suicide, adultery, divorce, incest, mental illness, drug and alcohol addiction, familial obligation and racism.  Fortunately, this production by Steppenwolf Theatre Company tackles these issues in a way that was, at once, smart, funny and painfully depressing - more like a Wes Anderson film than a soap opera.
Justin: If you had to give a synopsis of the play, including the various family secrets that are peeled back and revealed throughout the show, it would certainly sound like a soap opera, but the experience of the production is entirely different and far more rich than watching a soap opera. Osage struck me as a kind of deconstruction of America's heartland using the fictional Weston family as a microcosm. The story is about one family, but it also presents conflicts within that family rooted in class differences, gender differences, differences in values, and generational differences; all the same conflicts that characterize a country in turmoil.
Ashleigh: Anna D. Shapiro directed a superb cast, each of whom gave poignant portrayals of flawed characters.  I found the characters outlandish and overdone - caricatures of the white American hillbilly of the Midwest - yet somehow, each actor managed to convey an element of humanity that I could relate to, even if I didn't want to.  I found that actor Shannon Cochran, as the eldest daughter Barbara, was particularly compelling as she swayed between fragility and dominance, rigidity and madness.
Justin: I was more inclined to believe that they were "hillbilly eccentrics" more so than caricatures. With characters like a cranky drunk matriarch and an effete intellectual professor sleeping with one of his students, there was plenty of potential for stereotypical treatments, but I felt Shapiro and the cast stayed clear. I thought the triangular existential state of ignorance/concern/indifference many of characters shared lent them an air complexity - even if a bleak one.
I fully agree about Shannon Cochran's performance and would add that Estelle Parsons brings a lot of subtlety to an unsubtle role as matriarch Violet Weston. The fact that it is never clear when it is the booze, or the pills, or the real Violet talking made it that much harder for both the audience and her stage family to pin her down. I would also add that Paul Vincent O'Connor as Uncle Charlie is a quiet presence but his brief moments in the spotlight resonate. John DeVries as Beverly is only in the show briefly, but remains my favourite character. Despite his one scene appearance, one really understands why the rest of the characters miss his presence.
From a technical standpoint I thought Todd Rosenthal deserves a nod for his epic set design. Disproportionally tall and literally missing the 4th wall, the fully dressed mock up of a family home is reminiscent of a life-size doll house - an appropriate image considering half the characters are emotional children in one respect or another.
Ashleigh: I walked out of the theatre exhausted yet satisfied, not to mention relieved that my family life is not nearly as messy as that of the Westons.  August was very well received by the opening night audience, who gave the cast a standing ovation.  Yet I'm not sure that August will ever go "big" in the mainstream theatre world.  I just don't see who the play is for - I would hesitate before recommending it to anyone that I know.  That which August did so well - turning the family inside out and exposing all the nasty little bits - is the same thing that may destroy it.  We may not want to see this truth for over three hours.  So despite its quality as a theatrical production, I'm afraid that August: Osage County may go down, in the words of Eliot, "not with a bang but a whimper."
Justin: Here we will have to disagree. I thought it was a highlight of my theatrical year so far and think that its comedic and dramatic strength makes it accessible to a broad audience. I will admit that because it is a "dysfunctional family drama" (not an uncommon genre) Osage will never be as iconic as a show like Cats (speaking of T.S. Eliot), Urinetown, or Glengarry Glen Ross, but I think it stands on its own two feet admirably.

August: Osage County is produced by the Steppenwolf Theatre Company, written by Tracy Letts, directed by Anna D. Shapiro.  Running at the Cannon Theatre until November 15, 2009. For more information check this out.
 
By Ashleigh Dalton and Justin Haigh