The Plank Panel consider Maria Stuarda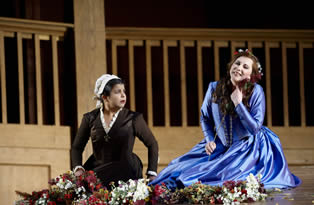 The venerable PLANK Panel return with their take on the Canadian Opera Company's recent production of Gaetano Donizetti's Maria Stuarda
Justin: It may be strange to start a opera review with a note about a work's libretto - one of the unmodifiable elements of any Canadian Opera Company production - but it is still a key part of the artistic experience and as such a legitimate topic of discussion. The thing that strikes me most about Donizetti's Maria Stuarda is the drastically unfamiliar treatment Queen Elizabeth I receives in this work. Compared to the moderate and headstrong depictions we are familiar with thanks to films like Elizabeth and Shakespeare in Love, the jealous and often petty Elizabeth of Maria Stuarda is a virtual stranger.
The program notes point out that given the story of Maria Stuarda, in which Catholic Mary Stuart (also known as Mary Queen of Scots) languishes in prison while her friends and lover attempt to convince Protestant Queen Elizabeth to release her, it is not unusual that an Italian opera falls firmly on the side of the Catholic contingency. This struck me as being a satisfactory explanation until I also remembered that the libretto is in fact based on a play by the German poet and author, Schiller, himself a Protestant. This being the case, the full reason for Elizabeth's venomous nature in Maria Stuarda (Did the authors dislike her for other more complex reasons? Has Elizabeth I as a historical protagonist only returned to favour through the eyes of a more female-friendly 20th century audience?) It is still a mystery to me, but does not take away from the novelty of this switch-around. For those unfamiliar with the opera, but familiar with the modern-day legend and reputation of Elizabeth I, Maria Stuarda would seem like a twilight zone-esque re-imagining of popular history, which actually makes the opera more interesting and unexpected.
Roselyn: As far as the opera itself, Justin, I couldn't agree more. The story is riveting, the characters heartbreaking. However, there were some flaws in this production that detracted from its potential. Nothing serious enough to make it a flop. An excellent conductor, Anthony Walker, delivers a dazzling score, and the performers were all vocally strong. Unfortunately, director Stephen Lawless took some risks that failed to pay off. The random costume change at the end of Act III did not, as Lawless might have hoped, universalize the tragedy. It was just distracting and weird when the chorus suddenly peeled off their period costumes to reveal garments from several centuries and styles. That's my strongest objection, but the production was strong enough to earn forgiveness… from judges less severe than Elizabeth.
Justin: Having said that, I think the libretto is also weakened by this favouritism. Elisabetta (Elizabeth) starts as a powerful and enigmatic figure but seems to devolve into a two-dimensional villain as the first two acts roll along. Fortunately, by the beginning of the third act, Elizabetta has regained her composure and is once again a conflicted and nuanced character. There is also the matter of the Babington plot which is mentioned very briefly in passing in the opera, as though no more than a minor historical footnote, but in reality was a major reason for [spoiler alert] Mary's execution and anything but a minor footnote in the history of the two women.
Now as for all the creative and technical elements, I thought the COC's production was a complete success. With two queens yearning for one man and a veritable catfight that seals Maria's fate, Maria Stuarda is as much soap opera as opera.
Roselyn: I have to disagree with you on that. Act II is Elisabetta's strongest act, Maria's weakest. As a villain, she shines in this act where she is not conflicted but outraged. As Elisabetta, Alexandrina Pendatchanska's initial characterization is too flouncy to be regal in Act I. She presents the queen as a spoiled, sour adolescent, not a victorious but fearful queen. Act II changes that for her. Her contempt of Maria Stuarda gives her pride and poise, much more fitting to a vengeful monarch. Deftly, her voice skips through complicated runs and hops into harmonies with secure anchoring and enviable breath control. Likewise, Serena Farnocchia in the title role glides gracefully over her score, showing the grace and courage that fits her character. Her confrontation with Elisabetta is, indeed, a musical highlight of the show, with both singers in top form. However, Farnocchia doesn't rise dramatically to the level of contemptuous rage that dooms her character. Even so, Pendatchanska fills the stage with fear and humiliation at Maria's vicious insults.
Justin: Nevertheless, Lawless draws rich and remarkably natural performances from his performers. There are some very real moments shared between the characters, such as when Maria and her handmaiden play and tease each other with bunches of wild flowers. Lawless can also be commended for excellent use of both the depth and height of the stage, as well as seamless and motivated blocking. It is, in my opinion, a wise choice to allow a character's emotions be conveyed through the voice and face, rather than tantrum-like stomping around the set. If there is a misstep it is the dead deer prop that is unceremoniously plopped in the middle of the stage; it struck me as a bit of unnecessary and heavy-handed symbolism.
Roselyn: You've got my vote on the deer – an out-of-place choice that distracts rather than enhancing the drama.
Justin: The cast is harder to break down, largely because there isn't a weak performer in the lot. Serena Farnocchia (Maria) is bright and youthful, both dramatically and vocally, and Eric Cutler (Roberto, Maria's lover) is warm and earnest. Although not necessarily superior as an actor or singer, it was Alexandrina Pendatchanska (Elisabetta) that captured my attention. Her voice has the appropriately qualities of determination and pragmatic stability - which is probably why her brilliant and sometimes shrill bursts of volume, betraying her character's calm, were so effective. I thought she was clear and emotive (without being over the top), and brought just the right touch of menace to the role.
Roselyn: You've right about Maria. Her voice glistens in Act III especially, as she marches to her death with brave resignation. Elizabeth's cowardice in that act is equally poignant, and both women make you want to cry out, 'you're not really trapped like this! It's not real!' Supporting performers, indeed, deliver heartfelt emotions – with two supporting men warranting special mention. Patrick Carfizzi is touching as Giorgio Talbot. His warm voice is wrung with deep grief, his manner with agonized devotion. On the other hand, Eric Cutler fails to deliver the poignant heartbreak of the Earl of Leicester, the man caught between two queens. His voice is pitch-perfect, but he lacks energy. The blocking that's meant to show his desperation comes off as lazy instead. He's constantly on the floor, kneeling to beg for Mary's life or laying beside the queen he loves or the one whose mercy he needs. Grovelling like this, he doesn't seem broken, like he should. Rather, he looks like he might doze off – even during his bow, which was no more energized than a nod and two quick waves.
Justin: Musically speaking, Maria Stuarda proves that Donizetti, despite not being a household opera name like Wagner or Mozart, was equally adept at delivering rousing arias, heart-melting duets, catchy themes, and calculated orchestration. Conductor Antony Walker wisely treats Donizetti's score with a gentle hand and light touch - without rendering it limp or weak.
I think set designer Benoit Dugardyn and lighting designer Mark McCullough also deserve a special nod. Dugardyn's vertical set (it reminded me of a hybrid between the Globe Theatre and La Scala) and his innovative use of curtains to partition the stage - thus instantly changing the mood and scale of the scene - were both very impressive.
Roselyn: Yes, Dugardyn's work was great – structured, period-appropriate and supportive to the drama. Unfortunately, Lawless made a mess of the red curtains. He constantly had someone pulling and shifting them. It was annoyingly distracting. Once or twice, sure use them to change the scene. But not several times inside one song, as in the trio between Elizabetta, Lord Cecil and Roberto. The piece, wrought with powerful conflict, was marred by the intrusive noise of those curtains.
Justin: McCullough's lighting was at its best stunning (act three, scene one comes to mind) and reminiscent of renaissance paintings; like watching a Caravaggio come to life.
Roselyn: All in all, it was a strong production of a fiery show.
Maria Stuarda was produced by the Canadian Opera Company and ran at the Four Seasons Centre for the Performing Arts, May 1-30, 2010 for more information go here.
By Justin Haigh and Roselyn Kelada-Sedra