Peter Panties: baffled and charmed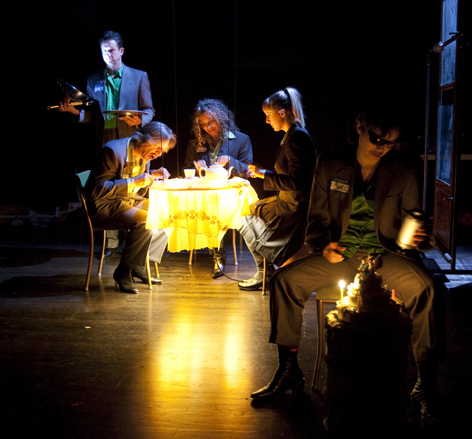 I have a confession to make: I love Leaky Heaven Circus. Since I moved to Vancouver in 2003 I've seen most of their shows, and, luckily for me, I've learned to approach their work with an open mind.
Not so, apparently, for the North Shore couple sitting next to me at the Cultch yesterday evening. As we sat in our chairs after seeing Peter Panties, they told me of their genuine bewilderment. What was that all about?
And fair enough. By time the show was over, I too was perplexed – there is a cacophony of ideas bouncing around in this play, which is co-written by Niall McNeil and Neworld Theatre's Marcus Youssef. The fact that McNeil has Down Syndrome adds a rich layer of complexity to this work, and there is much to decipher in this one-hour performance. But although I was baffled by the end of the show as well, I was also completely charmed by it. It's an amazing piece of absurdist theatre.
I'm not usually a fan of this type of theatre. It's incredibly difficult to accomplish well, and I'm most often left feeling like this reviewer from Geist Magazine. "A radical re-imagining of the Peter Pan story," Peter Panties has little in the way of traditional narrative. In this re-visioning, a 28 year-old Wendy escapes her family and returns to Neverland (which resembles a crack den in the Downtown East Side), the Lost Boys drink whiskey, smoke and watch CSI, Wendy gets pregnant, has an Eraserhead-like baby, and then is kidnapped and killed by Captain Hook, who turns out to be Macbeth.
Or something along those lines.
The show is punctuated by performances by Veda Hille and The Bank Dogs, a group of local teenagers, and by video clips of the creative process between Youssef and McNeil. The latter are beautifully projected onto a large, white sheet and later onto a white tent in the middle of the stage.
Peter Panties is illogical and ludicrous because it's an absurdist deconstruction of our cultural assumptions. Take, for instance, our notions of adulthood. As you may recall, Peter Pan is a story about a boy who refuses to grow up. In Peter Panties, the same boy has reached his late twenties and he wants to get married and have kids with Wendy. Wendy, in turn, is almost 30 and still living with her parents. She wants to return to Neverland to be with Peter. But, as her mother advises, "Growing old is scary."
Of course becoming an adult and getting married would also allow Peter Pan to have sex, a decidedly un-childlike activity. "Has Peter Pan ever had sex?" Wendy's mother asks. Similarly, when Wendy returns home for a visit with her father the banker, he tells her she'll be grounded for a month, with no sex (his reaction as she finally shows him her baby is priceless). In a videotaped interview with Youssef, McNeil articulates Peter Pan's desire to have sex, but stipulates that any sex in the show should take place backstage, panties on. The audience then gets to see how the creative team chose to portray this part of McNeil's version of the story, and his words are echoed throughout the show; "Panties on!" shout the cast. Ultimately, Wendy's pregnancy is achieved onstage in a clever bit of clownery that evokes what children might imagine takes place when babies are conceived.
This type of clown work that Leaky Heaven Circus is well-known for is spread throughout Peter Panties. It's not high-tech, but it's fun and often gross enough to get a squeal out of the audience. For example, as Tinkerbell and Wendy finally duke it out, their silhouettes projected against a white sheet, Wendy pulls on two breast-height balloons to make it appear as though she's yanking on her opponent's nipples.
Hey, it worked for me.
In the end, what struck me most about Peter Panties was what I like best about Leaky Heaven Circus: their inclusiveness, and not in some schmaltzy, politically-correct kind of way. I think of Leaky Heaven as the resident company for Vancouver's East Side – they have always included all the fabulous freaks and geeks of our neighbourhood into their work, regardless of age, sexual orientation, race, gender, physical or mental ability. Combined with Neworld's concern with "otherness," I left the theatre with a smile not because this was a token nod to working with a differently-abled artist, but because they had fully honoured McNeil's artistic vision and point of view and with that created a beautiful, thoughtful and entertaining play.
Peter Panties is part of the 2011 PuSh Festival, and is playing at the Cultch February 3 – 13, 2011.
By Maryse Zeidler