Pain and Paradox: The Human Body Project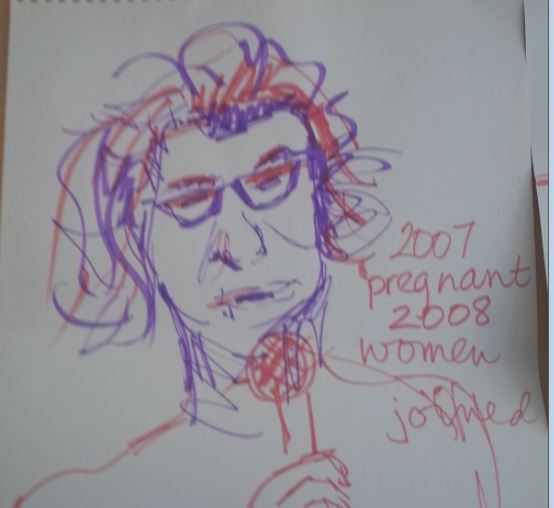 Tasha Diamant has been standing in front of people nude talking about whatever comes to mind for nine years now. Starting in Lethbridge which she doesn't recommend as a starting point if you have a performance piece involving nudity as the place to launch. 
I know women like Tasha. People who are good at feeling pain and living and pointing out paradox.  I've had 60-minute conversations with them about many of the topics Tasha explored: feminism, global industrial complex and extinction of species including the human species. She invited us, the audience, to talk with her, or not. I've had conversations like that too – where my part is optional. The difference is "just" that Tasha had on shoes, socks, a necklace and glasses and nothing else. The intriguing thing for me was the paradox that it's so unusual to see someone nude and yet from the neck up and ankles down, she looked, well, pretty darned ordinary. 
I went on Thursday at 5:00pm. There were seven of us including the usher in the audience. One woman left half-way through. Tasha waved and said, "Bye." She'd already told us this could happen. When I left I saw the woman talking with the Fringe volunteers. My bet is she was trying to get a refund. 
There are sketch books and felt-tipped markers on the stage. You can as Tasha says, "treat it like a Life Drawing class." I tried that, but other than full-frontal she didn't hold poses for very long. I'll say this though: she has lovely hands and arms and gestures very gracefully. Which I might not have noticed if not drawing. 
The most interesting thing for me was observing my own mind for the 60 minutes. I got a little bored with the conversation, but realized I'd been invited to converse and wasn't engaging. Yup. That happens in my real life, too. 
She says, "It's not a play. But it is a performance."  She's attended 37 vigils. If police arrive, she puts on her underpants, as it's legal for women to go topless in BC.
By an ironic twist of fate, it was listed on my Plank review schedule as "Balls Replaced by The Human Body Project." An audience member asked, "I wonder if he would have showed his balls." Probably not. 
By Mary Bennett