Out Innerspace, L.S.D.: conjuring subliminal fears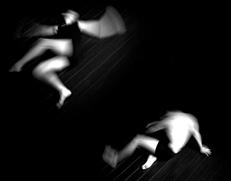 Out Innerspace Dance offered by far the most dynamic interpretation of the love, sex, and death themes that were the subject of the VIDF's free performances this year.   David Raymond and Tiffany Tregarthen have a powerful rapport, and their vocabulary is intricate, intimate, and refined.  The performance lived up to the company name, in that movements implied a physical and an emotional space simultaneously.  
The dancers sculpted the area of the stage through a range of movements, from lifts to lying prone.  They always moved in relation to each other, and the space around them seemed to have meaning relative to the relationship of  to their bodies. They performed a duet to the music of Jeff Younger,  whose laid-back bass guitar created a dark and dreamy atmosphere well suited to the work.
Raymond and Tregarthen extrapolated from familiar movements, creating something unique out of the quotidian: two bodies lie on stage as if asleep, and one slides unconsciously across the floor to curl in the curve of the other's back.  Raymond grasped Tregarthen at her ear, with motions that suggested intense scrutiny. He grasped her at the waist and though hardly moving, seemed to unravel first her clothing then her very self. The dancers played stability against vulnerability in the angles of their bodies, in their respective rigidity or fluidity, their rootedness or nimble grace.  
The themes, love, sex, and death, were woven into the fabric of the piece. The dancers' intimacy with each other and the precariousness of certain lifts and holds conjured the subliminal fears that haunt any relationship – fear of loss,  fear of overexposure to the other –  suggesting that in love one risks a death of self as frightening as any physical threat.  It was a strong and richly evocative performance.
By Kirstie McCallum