Otello: sublime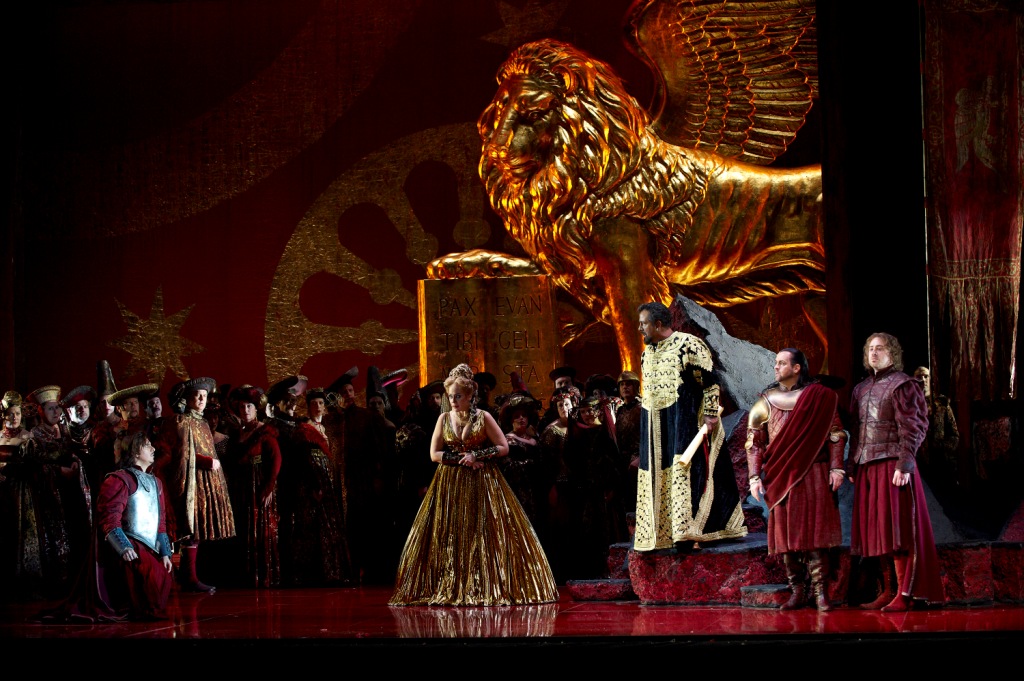 Brevity is the order of the day; go and see Otello at the Four Seasons Centre for the Performing Arts.
The Canadian Opera Company's production of Verdi's timeless piece, the crowning glory of a brilliant career, leaves little to be desired. Famed tenor Clifton Forbis in the title role can only be described as sublime. His voice, prowess with Verdi's score and dramatic force combine to make his performance a masterful one. Scott Hendricks is diabolical and enticing as the evil Iago, though his rounded voice is sometimes drowned out by the orchestra or the chorus. I'm inclined to blame director Paul Curran for that, but the fault does not fall on Hendricks, as he knows better than to push his voice beyond its capacity. I would only have hoped for a bigger sound, but Hendricks owns the role so fully that I can't wish for a replacement. Conductor Paolo Olmi leads an excellent orchestra, delivering the turbulent score with booming power, lyricism and delicacy as needed. It's Curran's responsibility to make sure all factors are in balance with each other, so I hope to see that even out somehow in the run.
Tiziana Caruso sings the part of Desdemona with a deep, soulful voice to be treasured in a soprano. Her approach is sweet and gentle, as the character demands, and she makes it lovable. Her Willow Song, in particular, is richly coloured, pure, impassioned and heartrending all at once.  Caruso brings a subtle strength to the often passive role, which is quite an accomplishment. She even manages to evoke angelic beauty in costumes that make her look like something between a circus performer, the tent and an eighties prom queen – all in maternity-cuts. The gowns in which she enters and exits the opera work well. The dichromatic ruby with gold accent (Act I) and white with red accent (final scene) flutter pleasingly around Caruso and allow her grace to be seen. I have no idea what could've made costume designer Paul Edwards opt for the sparkly wrappings that flash distracting around Desdemona for the rest of the show. However as set master as well, Edwards redeems himself with consistently affective and functional designs. Lighting Designer David Martin Jacques deserves equal credit for enhancing the aesthetic. His strong reds and shadows contribute vital power to the moods of each scene, through naïve love and hope to tortured jealousy, twisted ambition and passion in all its distortions.
It's worth whatever sins need be committed to get tickets to this production.
Otello Canadian Opera Company production at the Four Seasons Centre for the Performing Arts in Toronto, Feb. 3 - 28, 2010. For more information go here.

By Roselyn Kelada-Sedra