The Orbweaver – Most Magically Sweet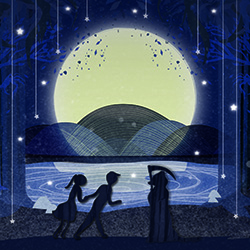 Even though the subtitle is actually, "A dark and twisted folktale about a mildly farfetched, highly illegal immigration across metaphysical borders," I hereby proclaim it as: "Endearingly charming. Mostly magically sweet." Once Once Producciones based in Mexico City have put together this world premiere and it's one to catch if you can. An aside: "once" in Spanish means eleven.
If you forget the dark and twisted part for a moment, it really is still a story of boy meets girl and the extents that young people will go to in order to be with the one they have fallen in love with.
In Espagnol, the plot is simply this: Elena y Quiron se enamoran. Enamoured they are. And I was enamoured with them as well.
Playwright, Paula Zelaya Cervantes, with Matthew Willis, co-producer and dramaturge, are both recent UBC graduates. When they applied to the Fringe to premiere this show in Vancouver, they weren't at all certain where the money would come from to bring the cast from Mexico, let alone the fairly extensive and effective collection of costumes and props. When the Fringe lottery landed them at number seven, just one off the list of the six spots reserved for international shows, they went into "at ease" mode. But... then their number came up when one of the other six withdrew.  (Aren't we lucky it did?)
Thanks to the magic of crowdfunding, they raised the money to bring the cast of The Orbweaver from Mexico. And through the magic of second hand shops and creative prop creation, they assembled a coherent and evocative set of props and costumes that enhance the production.
Ana González Bello who plays Elena was winner of the Mexican Theatre Critics' Association Award (2016). She is also a celebrated playwright as well as actor. The BBC website quotes her as saying that she was studying International Relations when she realized she wanted to be an actor.
Her character, Elena, is cheerfully dusting the seats as we enter the Revue Theatre.  Elena is a sweet but also passionate girl. When she falls in love, her passion drives her to do things that she knows she ought not to do. Elena likes the light (her father is a candle-maker, so it's in her genes), but she enters the dark.
Evan Regueira is resident director at La Teatrería in Mexico City. Regueira plays Quiron who, on coming of age in the orphanage, is hoping to be assigned to an interesting trade. Such as marine biologist. Instead, when Death claims Quiron as his personal chauffeur, no one objects.
Marcos Radosh plays Death whose face we never see and whose voice we never hear. If you're really wanting to look Death in the face, however, you can search Facebook and find Radosh. . Spoiler alert: Death does a dance at the end.
Still not sure if this is one for your dance card? Check out the 2-minute preview from the Georgia Straight's Fringe for all night here: http://www.straight.com/arts/778926/video-7-casts-showcase-two-minute-scenes-first-ever-fringe-all
By Mary Bennett