Or: quick fire that leaves you beaming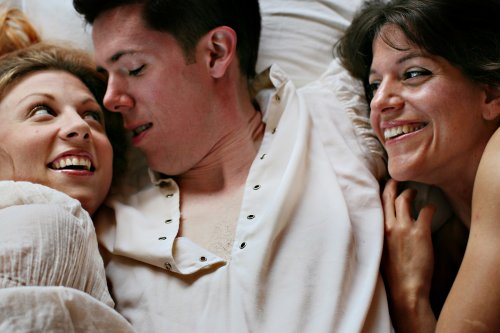 This quick fire comedy from playwright Liz Duffy Adams and presented by Seventh Stage Productions as part of the SummerWorks Festival manages to be an utter crowd pleaser without resorting to any broad strokes. A wonderfully neat plot about Aphra Behn, an aspiring female playwright with a 9-5 job as a war time spy for King Charles of England, is both a delightful and bawdy comedy of errors and a surprisingly open and insightful examination of issues of gender, sexual politics, and equality. Duffy populates her work with cheeky and likable characters, making for a very welcome break from some of SummerWorks' darker fare.
Director Kelly Straughan keeps things moving at a lightning pace without overwhelming the audience, while the cast of three deliver colourful and commanding performances. Sophie Goulet charms as the witty and ambitious Aphra, while Damien Atkins and Melissa-Jane Shaw both shine in a variety of roles (their impressive character changes are worth the price of admission alone). Atkins deserves special mention for his demanding performance as motor-mouthed aristocrat Lady Davenant, a role for which he received a full round of spontaneous mid-play applause.
Or combines pure entertainment value with a tight and meaningful story, and leaves one beaming inside and out..
Or is on as part of this year's SummerWorks Festival. For more information go here.
By Justin Haigh