The Old Woman – A Must-See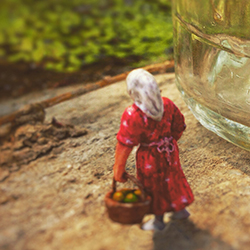 John Grady is a consummate performer with dance, film and stage experience and awards. His show, The Old Woman, certainly exhibits his brilliance as a performer.  Grady explores the responsibility of providing care for his 87-year-old mother who suffers dementia, seizures and severe bone and joint pain and has been put in an uninspiring care home. While going through the humorous and harrowing interaction with his mother he also faces his own fear that he too, despite his agility, is losing his ability to remember. Terrifying? You bet, but Grady is too wise to drown us in misery; he has us laughing a great deal of the time at quirky details, like his mother's urgent request for duct tape and toothpicks or the care home's multipurpose room that is only used for one purpose – sit down exercise.  
The opening, a bare stage with a chair, and the real life voice of his mother on tape being interviewed by a medical assessor, gives an eerie and uncanny feeling while still introducing us sensitively to the humanity of his mother, telling matter-of-factly of her French and Irish heritage.
John, back in the US from his Canadian home, then gives us a comic rendition of his typical day-time routine of walking his dogs in a park and the untypical event of running into a rattle snake.  All of this is highly amusing, but I am not too sure why it's there other than to entertain us before the 'tough stuff' hits us. Perhaps the snake is a symbol for he mentions 'she' has many coils so must be old, and he warns others about watching out for this 'nake'.
The retelling of his mother's story about the old woman who lives in a vinegar bottle is beautifully crafted and later woven into the last few seconds of the brilliant ending of the play.  
One of the funny-scary moments is when John meets a woman who seems to know him and claims to have dated him but he can't remember her at all. His inner dialogue with himself and the terror and embarrassment hit us hard even though we are laughing.
Grady's delivery of dialogue is wonderfully varied – some slow and enchanting, some super-fast paced (although his articulation needs a bit more precision) and his dance in the latter part of the play is an intimate goodbye to the body, both his mother's and his own perhaps. It begins with the wobbles of feet and knees and explores every body area as if experiencing it for the last time.  
An audience member I spoke with after the show found the dance a bit long and I tend to agree with his point, but it was a treat to watch nonetheless.  
This show is a gem.  A must-see for your list.  
By Beth Coleman