Old Growth - tree inspired shaman inspires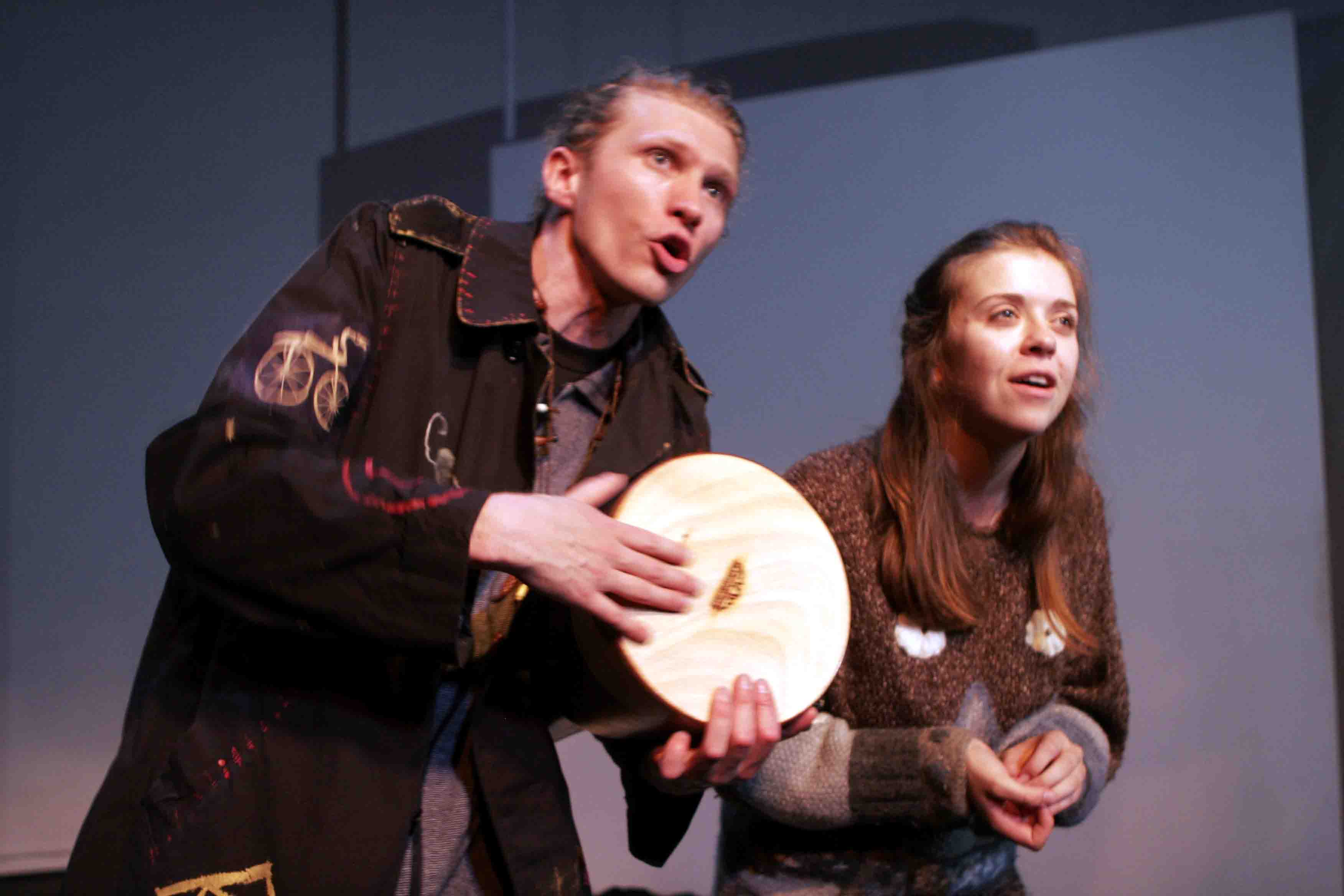 Old Growth is a new thought provoking production composed and performed by Alex Eddington. It now features Allison Williams who replaces Aura Giles.
The play is set in 1997, when two musicians, Alex and Aura (Williams), go on a pilgrimage to the Queen Charlotte Islands. While there they visit the site of the fallen Golden Spruce Tree, which was cut down by a deranged logger named Grant Hadwin.  Alex wants to become a shaman who can heal and bring the spirit of the tree to other parts of Canada.  Adding levels of complexity to the piece, Alex effectively recites 'envirologues' which are musical and magical monologues to demonstrate the environmental and economic issues. Eddington does not make these speeches preachy, rather they are both artistic and informative.  While the pilgrimage Alex and Aura experience might be fictitious, the logging event itself was documented in John Vallant's non-fiction novel, The Golden Spruce.
Old Growth is an eloquent, intense piece of textual composition.  As part of their ritual, there are moments when Alex and Allison chant making the piece lyrical and engaging.  Eddington has a raw presence on stage.  We see his character become overwhelmed by his mission for change to the point of self destruction. Meanwhile, Williams, who is also director and dramaturge, (and stepped into the role of Aura only a few days before opening) brings an intense warmth and humour, as well as courage.  Eddington and Williams complement each other as performers.  Drumming percussion instruments as well as recorded samples of Aura Gile's flute playing are used as part of the ritual. I also appreciated the unique use of other, mostly wooden, musical instruments, such as the train whistle and wooden blocks.   
Because of the strong sense of ownership to a destroyed natural treasure, this production should be seen by West Coasters. This is not an easy show to watch. It's intellectual and intense but if you want something other than the normal fluffy confection - then see Old Growth. In fact, see it twice, because you will leave the first time wanting more.  
Old Growth by Alex Eddington; produced by Acky-Made (Toronto/Ottawa, ON). Part of the 2008 Victoria Fringe Festival, Old Growth continues at the Intrepid Club (1609 Blanshard @ Fisgard) on Wed 27, 10:00 • Thu 28, 8:15 • Sat 30, 10:00 • Sun 31, 3:45. For more info shaman yourself here, man.
By Laura Harris