Oh My God! - Simple and Simply Superb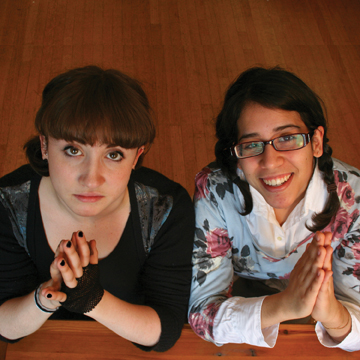 There was something about the description of this play which made me think I wouldn't like it. Was it that it was about two teenage girls? Teenage girls are annoying. Was it that it took place in a church? Churches are boring. Was it that it was about friendship? Friendship is . . . well, it's just not very entertaining, right? Wrong. All my assumptions about this play were wrong. And that got me thinking about what informed my assumptions.
This play was simple, and simply superb. The actors (Karina Palmitesta and Sarah 'Tich' Wilson) and direction were both spot-on; the writing of Josephine Mitchell is genuine and rich without any sense of effort.  I recognized these girls, even though I'd never been them, because the few hours shown in their life were real – the story had heart. And, genuine heart, shared in well-crafted live theatre, is never boring. When a playwright, actors and all the people behind the scenes create a show which is true in the way this one is, it is a delight to do our part of being the audience.
If you are looking for something fresh, a play which only a Fringe Festival can make room for and which totally deserves its space on the roster, this could be it. Whatever subtle brainwashing the noisy, stereotype-filled, predictable stories of our modern "culture" have
done to our expectations, "Oh My God!" simply wipes it away with a small vignette – two girls' story of that time they were locked in the chapel, which is also the story of how friendship makes all the difference in getting through the hard days.
Look for more from Delinquent Theatre in the future, too. They have good taste!
By Kyira Korrigan