Oh The Humanity! And Other Good Intentions: tough not funny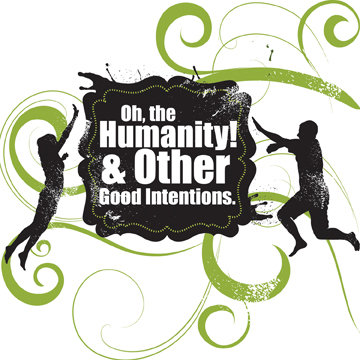 First off, this play ain't funny. The dialogue is more poetic than authentic. But the actors manage to pull off difficult performances that demand raw emotion painfully restrained. There's good stuff here.
Oh The Humanity! by Will Eno and produced by Staircase Xi Productions is an earnest piece – or I should say, five earnest pieces, played with enthusiasm and polish by the actors, Maryanne Renzetti and Brad Duffy. They've got tough gigs; the monologue-ish dialogue (even when the two are in the same scene), and lack of action or overt conflict make it a tough role for the players.
This play is all about internal conflict, with the characters all enduring various heartbreaking and existential forms of torment. An airline stewardess on a doomed flight launches into a stream of consciousness comforting and blaming the passengers almost in the same breath. A failed sports coach at a press conference starts by rationalizing his betrayal of the fans and ends up moaning over lost love. A photographer and his assistant explore the meaning of a war photo, turning it into a weird, wandering "conversation" about the meaning of the moment they're in.
I was surprised to read a marketing blurb after I saw the performance suggesting that the play "is sure to make you laugh, and then wonder why you're laughing." There were a few brief moments where a comedy element was tossed in to break the tension. But this is not primarily a comedy, even if one makes allowances for the most sincere fan of black humor. It's a tough and thoughtful play, worth seeing.
Oh The Humanity! is on as part of this year's Vancouver Fringe. For more information go humane here.
By Jonathon Narvey