NeOn – Love, Loss, and Murdering the Homeless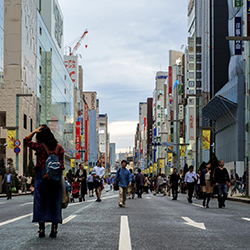 NeOn (Ne.On) is about love and the way love has changed over the past seventy years. It follows the stories of a grandmother, two young women, and two young boys seeking the affection of the unattainable Miki. The stories are interwoven among time and space and the story goes through a series of fractured moments which the audience is left to piece together.
The production was touching: well conceived and executed. I really enjoyed the incredibly energetic role of Nathania Barnabe as Miki – the childlike goddess who refers to herself as "princess of the universe!" The slice of life feature also includes the two youngsters poisoning a homeless man to put him out of his misery – which personally left a bad taste in my mouth. Overall however, the production was a very touching approach to love and loss in the 20th and 21st centuries, comparing traditional arranged marriages to modern romance and courtship. Miki's advice is a good takeaway; "Let it the fuck go."
With all of the different stories and times involved NeOn was very well done, juggling a lot of pieces at once. It also made great use of multiple media formats, incorporating a projector screen with stylized art and instant messaging screens. This is Mayumi Yoshida's playwriting debut and I think a successful one. I look forward to seeing what she has in store for us in the future, and I hope you go and see NeOn.
By Kit Martens