Muse - Musing over Muse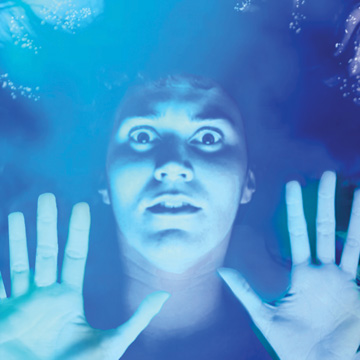 Natalia Hautala is Grace. And Grace is Muse. We know from the voice over of Dr. McDougall (Doctor Doodoo) and Nurse Vicky that Grace has had neurological damage, is OCD and doesn't speak. 
As we enter Studio 1398, Grace is playing the cello and singing. She plays, sings and speaks a lot and somehow Hautala makes it clear to us that we are inside Grace's head and can hear her unspoken thoughts. 
Hautala invites the audience to follow Grace's hand gestures to become her backup singers. Entranced, we comply.  Ba da DUM.  Ba da DUM. Ba da DUM. She smiles at our response but we know that we are also inside her head. She's smiling at her own imagined voices.
I read that Hautala just recently graduated from UBC Okanagan (2013) in Interdisciplinary performance. Her website is so new that under "blog author" section, it says "write something about yourself"  There are no blog entries. She describes her as an "emerging" artist. I would say this butterfly has emerged. 
Muse is directed by and conceived by Barbara French of In Other Words Theatre. It is the result of a collaborative process ("devised theatre" – where the improv part is in the creation and then the play is what it is and the improv stops.)
I found parts of the storyline that is revealed near the end more contrived than devised. Perhaps the "scaffold" (the term they seem to use for the starting place, in this case provided by Barbara French) was just the part of Grace in a care facility that has been put under new management. For me, the back story of how and why Nurse Vicky became the new nurse and then what she does next to resolve her guilt and get back at Dr. McDougall is less subtle and complex than I would have liked it. Doctor McDougall himself is a one-sided character presented as a disembodied  voice. I get it that that device was used intentionally but I like my characters more well-rounded with more complexity. The well-intentioned nurse's initial naïve blunders and then confession and epiphany were also too neat and tidy for my liking.
Not so much "amusing" but definitely worth a muse. 
Go see it if only for Hautala's magical acting, singing and playing. 
I wish I could see the original projection mapping version that played in Nanaimo.
By Mary Bennett