Morro and Jasp Gone Wild: charm in spades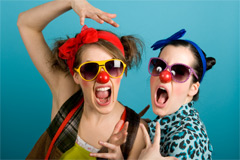 Clown sisters Morro and Jasp (Heather Marie Annis and Amy Lee) continue their roll of Fringe successes with this increasingly mature tale of sexual awakening, substance use, and teenage identity forming. Based on that description you may be thinking Spring Awakening more than "charming Fringe show", but don't be fooled - it is charming in spades.
With Morro and Jasp growing up, Annis and Lee are able to expand the scope of their content into more adult territory which translates directly into bigger laughs. Their simple adventure based story, which sees them lost in the woods on the way to the beach, is a well selected framework for their comedic mini-scenes. By far the most impressive element of the show is the ease with which they riff off of and engage the audience, often making those sitting in the dark feel infinitely more awkward and embarrassed than the two wearing red plastic noses. Morro and Jasp Gone Wild may not be an intellectually challenging show, but it is the definition of a crowd-pleaser.
Morro and Jasp Gone Wild is on as part of the Toronto Fringe Festival. For more information go here.
By Justin Haigh