The Magnetic Fields: quality without flash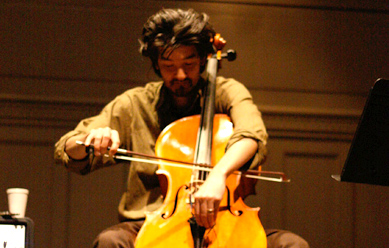 The Magnetic Fields are one of those rare bands don't neatly fall into a clearly defined category or genre, nor have they been adopted and defended by any single generation or demographic.
To put it another way, their music comes first, optics second, and any overt concerns for a distinct market niche an afterthought. It's a winning combination when one's aim is to produce a steady stream of remarkable and consistently engaging, if subdued, albums, and that is exactly what they have accomplished. Their latest offering is the folk-pop infused 'Realism', and the Fields have been on the road promoting it with a series of intimate concerts in large spaces. Torontonians were lucky enough to get a taste of the Fields' new work when the band stopped by the Queen Elizabeth Theatre (which, on a side note, is one of the best sounding venues in the city) for a relatively rare live performance last week.
Show opener and Toronto local, Laura Barrett (and friends), set the mood with her elegant and minimalist compositions. With Barrett on kalimba, and her stage-mates backing her up with a rotating assortment of instruments including violin, banjo, glockenspiel, and kazoo, they produced a cyclical, almost hypnotic and dream-like sound. Barrett's voice is innocent but not naive and there are elements of both youth and wisdom in her timbre. Quaint and quirky lyrics compliment her off-key, almost jazz-like melodies and offered a few giggles along the way. Barrett charmed the audience with both her music and her nerdiness, offering explanations for her songs like "It's loosely based on the internet" and "That one's kind of about love, but really about mp3 quality."
The Magnetic Fields followed shortly after, taking to the stage with such little fanfare that their arrival took some audience members by surprise. Although the Magnetic Fields are a band by definition, the creative juggernaut behind their musical output is Stephin Merritt, a straight faced - some might even say dour - man of Paul Simon like proportions. Merritt is the principal composer, lyricist, and co-vocalist for the Fields, and produces and plays a bulk of the instruments when in studio. Despite his central, almost solar role in the band, his stage presence is anything but; sporting a cozy sweater and ball cap, Merritt took a seat, not at centre-stage, but rather at the periphery of his fellow musicians, and remained there, abstaining from any strutting or grandstanding. In spite of his demure physicality, it was hard not to be captivated by Merritt's complex voice, with a flat weight like that of Leonard Cohen's and a warm grit all his own.
Merritt's songs were equally complex, blending wry humour with themes of unrequited love, tongue-in-cheek wit and wordplay with tales of the underdog. They are, to make a juvenile comparison, much like clouds; beautiful and light, but always with a threat of rain. Musically speaking, 'Realism' marks a humble departure from the highly produced yet minimalist indie-synth sound of the Fields' landmark albums, such as '69 Love Songs', opting instead for a warmer, more folksy vibe and nods to vintage folk like the upbeat 'We are Having a Hootenanny'. With Merritt on ukulele, Claudia Gonson on keyboard, Sam Davol on cello, John Woo on acoustic guitar, and Shirley Simms on auto-harp, the players on stage expertly created a bright, clean, almost chamber ensemble-like sound, with each instrument providing a distinct, never muddied contribution, yet combining to create a unified whole. Gonson and Simms shared vocal duties with Merritt, both using their higher registers to creating pleasing harmonies with his baritone, and performing other numbers solo, upping the evening's emotional variety.
Highlights of the concert included a touching and melancholy version of 'All the Umbrellas in London', the Celtic inspired "I'm Sorry I Love You", the tragic and meditative "From a Sinking Boat", and "Movies in my Head" - a tender ode to the escape that is imagination. Equally entertaining was Merritt's sparse, deadpan, and very droll commentary between numbers, including a preface for one particularly downtrodden song, "It's very sad, so it's very funny", and an explanation for the band's peculiar back-and-forth that evening, "We've been doing a lot of cold medication recently" (a reference to Simms' unfortunate bout of sniffles).
The Magnetic Fields may not be the showiest of bands, nor the most engaging, but when an audience is offered such a rich evening of quality musicianship, it's hard to complain.
By Justin Haigh