The Magic Flute: old favourite fails to impress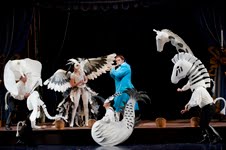 With glittering production values and strong vocal talent, the new production of an old favourite, nevertheless, fails to impress. The Magic Flute, one of Mozart's most popular and widely performed operas, tells the romantic story of Prince Tamino and his love, Pamina, the daughter of the devious Queen of the Night. Tamino braves tests of his character, while Pamina must face her mother's order to kill the noble leader, Sarastro, or be disowned forever. Moreover, Pamina faces what seems to be abandonment by Tamino, himself, and verges near suicide in her despair. With a little supernatural guidance and the strength of their enduring love, both Tamino and Pamina come through the fires to a happy union. They even pick up some charming sidekicks and magically blessed instruments along the way.
Director Diane Paulus, new to the Canadian Opera Company, has proved her worth on Broadway and off, in London's West End and with many opera companies. With many Tony nominations behind her, Paulus brings an inventive approach to this classic: the play within a play. She takes Shakespeare's device and sets the story as a performance for party guests, celebrating Pamina's feast day.
Set in a nobleman's garden in 1791, when the opera was first performed, the drama unfolds on a stage. It moves into the garden's winding labyrinth as the key players get further entangled in their quests. Myung Hee Cho's impressive set moves with helpful agility, enhancing the lovers' confusion and the sense that their paths are guided by greater forces than themselves. Moreover, with the enchanting set to admire and evocative lighting to set the mood, the audience takes a while to notice the lack of other crucial elements. Most important is the chemistry between Tamino and Pamino, which is so absent that it hardly seems a struggle for Tamino to turn away from her. Myung Hee Cho's costumes don't help, enhancing Tamino's foppish qualities and reducing Pamina's strength to fluff in bubblegum pink that's out-of-time with the ensemble.
Nonetheless, Isabel Bayrakdarian brings a beautiful sense of depth to this sometimes vapid heroine, although it takes the entire first half to emerge. While Pamina is under her mother's control, she is weak in her anguish. However, once abandoned by all who love her, she seems to grown in strength and courage, not to mention individual-decision-making ability. Grammy-nominated soprano, Bayrakdarian, creates a heroine to echo Juliet, who comes into her own only when all seems lost. Tamino, played with musical grace by Michael Schade, never seems to grow past his initial status: a pretty prince without much greater substantial assets. His scenes are brightened by Wallis Giunta, who brings dynamic purpose to the Second Lady in the Queen of the Night's troupe, and Rodian Pogossov, who plays the amusing, Papageno. The crackling chemistry between him and Papagena, played with sparkling perfection by rising soprano Lisa DiMaria, is exactly what's missing from the lead couple.
Myung Hee Cho provides an added bonus with bright, flouncy costumes for the comical couple.
Apart from that, Cho's best achievement in this production is the animal costumes, which fuse puppetry with expert movement of the actors to create a pleasing menagerie. Paulus brings many admirable elements together, ranging form Cho's sets and select costumes to Scott Zielinski's expressive lighting. However, the inspired idea on which Paulus bases her production drags too slowly and develops too ploddingly to affect the audience.
By Roselyn Kelada-Sedra