Love You Forever…and More Munsch: joyful and caring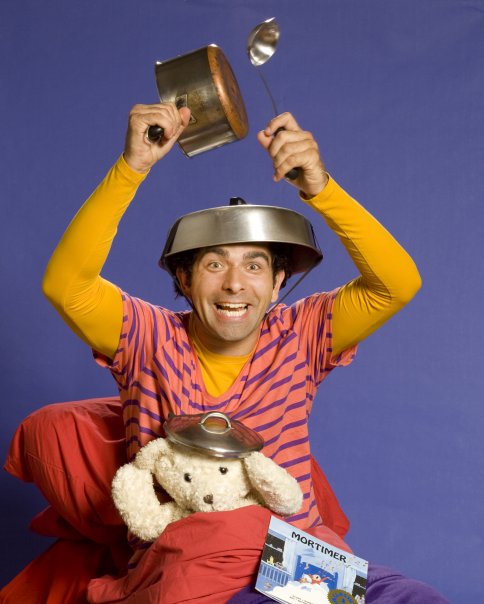 This is a big month for adaptation of children's classics. Last week, David Benedictus' Return to the Hundred Acre Wood was released, the first authorized sequel to the original A.A. Milne books from the 1920's.
This week sees the release of the movie version of Maurice Sendak's Where the Wild Things Are, adapted for the screen by Spike Jonze and David Eggers.  And here in Vancouver, Carousel Theatre brings to the Waterfront Theatre the lively and visually impressive  Love You Forever…And More Munsch!, a theatre adaptation of Robert Munsch picture books adapted by Stephen Colella and Sue Miner
Love You Forever…And More Munsch! takes five of Munsch's best known picture books and weaves them through the story of Mortimer, a boy known for his ability to make noise and resist sleep. We're introduced to Mortimer, his mother, and his sister with little dialogue, as he plays in his room, fights with his sister, and tries his mother's patience. Josue Laboucane launches himself completely into Mortimer, finding a child's voice and irrepressible energy. Ella Simon is introduced as his sister, vying with Mortimer for Mom's attention and approval.  Melissa Oei as the Mom has the most difficult introduction; appearing as an overworked corporate (possibly single) Mom, trying to get her kids to calm down at bedtime, taking her time with comic moments, especially geared for the parents in the audience (exasperation quickly switching to necessary patience).
The set is most impressive, designed as an open pop-up book, with a bed at the centre of a child's colourful bedroom, full of books, space ships and toys. While it's colourful, it doesn't have that lazy primary colours THIS IS FOR KIDS! look but rather the feeling of a well illustrated children's book.
With one more reminder of "Mortimer, be quiet!", we begin with the dreamland imagination of the rest of the Munsch stories, starting with my favourite of his books, The Paper Bag Princess. Mortimer follows along with his sister's telling of the story, as she makes herself the princess and him Prince Ronald. The set really is outstanding for this sequence, where a window seat becomes a throne, bed frame becomes a jail, and a book case is moved to reveal a dragon's cave. Melissa Oei is the dragon, with Mom's clothes showing underneath her costume so it's not too scary (although during the performance I attended, two toddlers did have to leave on the scariness factor). Princess Elizabeth's paper bag transformation complete with fire damaged crown is fabulous costuming, and Ella Simon relishes the part; indeed her program bio notes she's played at being Princess Elizabeth since childhood.
The title tear jerker Love You Forever is carefully played out as a story for Mortimer, who watches a little girl (Simon) grow up with the bedtime song, "I'll love you forever, I'll like you for always, so long as I'm living, my baby you'll be", which Oei sings prettily. In place of narration, the script calls for Mortimer to ask the Mother at each of her daughter's growth spurts, "Will she always be like that?", prompting the mother to describe the next chaotic phase of the child's life, until it is the daughter's time to sing the song when the mother is too old to manage it herself. Simon as the daughter has wonderful sleep tableaux to illustrate each stage.
The other Munsch books incorporated into the play are Murmel Murmel Murmel and Zoom! Simon is especially skilled as the old lady in Murmel Murmel Murmel, with Laboucane providing deft puppet work while Oei, after mostly being a mom, enjoys the exuberance of the child character in Zoo!
Munsch's writing suits theatre (he is known for performing his own work with brilliant gusto). Colella and Miner hit many marks with this adaptation, and have not relied on a narrator character, which I think is wise. However, in the adaptation, they've also removed some of the umph of the stories, and perhaps have been too quick to change what ain't broke. While classics are strong enough to withstand change, the necessary ingredient for it to work is purpose.
The biggest changes from the source stories are gender switches, which aren't altogether useful. The book Love You Forever is a story of a Mother and son; a boy who grows from newborn to man with a newborn of his own. The play presents it as Mother and daughter; while Mortimer interjects the mother's telling with the question, "Will she always be like that?" This question is effective, but this telling does lose something, and I think it's a case of gender matters.
The Mother/Son bond of the original story has always a sense of mystery for the mother to reach her son through his confounded stages; Moms and daughters tend to have confusion, secrets, and conflicts, but not mystery. That's why the impact of the son singing to his mother at the end of the story is so powerful – he's heard it, felt it, every time his mother sings it when he's sleeping. Boys and men don't talk about their feelings, while girls and women do.  It's just not the same.  Munsch's words still have great resonance despite this choice, and at the end of the sequence, there wasn't an adult dry eye in the house, including mine.
Director Carole Higgins has created a caring and joyful production, from set and lighting to performances. My major complaint about the script and direction is that it's careful rather than thoughtful; the gender switches, the frenetic children being calmed by sensible mom. The look of the piece (set and staging)  is often more spirited than the execution of the stories, and really the writers and director need look no further than Robert Munsch himself, who writes playful but brilliantly purposeful stories, full of nonsense and profound ideas. Just because it's for little kids, doesn't mean it can't dig deeper.
The lighting and sound in this production are excellent. Like many audience members, I brought my Mom, who was delighted that the pre show music included a somewhat obscure recording of George Formby's "Mother, What Do I Do Now?" Kudos to sound designer Jeff Tymoschuk for an imaginative selection, which seamlessly moved us from quiet moments to loud, supporting the actors in giving us clues when to be excited and when to be listening carefully.
At the end of the performance there was a talk back, with charming questions and statements from a very appreciative audience, including the simple but heartfelt, "I like the Princess!" One boy asked, "Why did Mortimer have his stuff all around?" and Laboucane acknowledged that Mortimer is pretty messy, and likes to play a lot. But I think there's more to the question than whether or not Mortimer keeps up with his chores; I think it reflects something missing. The stories come to Mortimer too readily; it's through absentminded not purposeful play that he "discovers" the next story.
In Sendak's Where the Wild Things Are, Max travels "in and out of weeks… and over a year" in his boat that comes to him because he's been banished (sent to his room without supper) and needs to create escape to cope with his anger and hurt. I think if the script showed more purpose to Mortimer's story escapades, and left more bite in the stories themselves, this enjoyable telling of Munsch stories would be excellent.
Carousel theatre sells affordable Munsch swag at the box office; mostly the books but also gold crowns. One mother bought her child a $5 crown, who wore it with pride and excitement throughout the play. The six year old girl in front of me had a great time, snuggling close to her Mom in the scary and sad parts, sitting forward and on the edge of her seat in the exciting parts, and even asking the actors a question at the end. How awesome is that?
Classic tales are greatly entertaining and profound experiences for kids and adults to share, whether we go to the Hundred Acre Wood to share some honey with a philosophical, poetry loving bear, or render dragons fast asleep with our princess wit and quick thinking. I'm sure a lovely time will be had by children and adults at Love You Forever… and More Munsch! So now it's almost time to get in our boat and sail to Where the Wild Things Are. Who's getting the popcorn?
Love You Forever…and More Munsch! presented by Carousel Theatre continues at the Waterfront Theatre until October 18th. For more information why not visit this site.
 
By Cathy Sostad