Love, Lust, & Lace – An Interactive Adult Comedy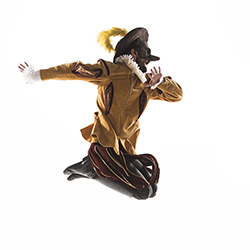 Presented by Gas Pedal Productions, Love, Lust, & Lace is a 60 minute Commedia dell'arte performance that has a little bit of everything. It's like watching a live cartoon: there's action, buffoonery, clowning, lots of audience interaction and of course romance!
A sensual evening set to the classic tale of two lovers, it is full of wonderfully dramatic characters and includes lots of audience participation. These actors are ready to do anything, and they are ready to handle anything their audience throws at them. I was very impressed with the actors` ability to take input from the audience and instantly incorporate it into the show! During one scene the main character Il Capitano writes a letter to his lover. Drawing a blank on his metaphor Il Capitano asks the audience for inspiration and improvises on whatever their suggestion is. He then completes his metaphor and hilariously expands on it in the most sexual way possible.
Each character is unique and thoroughly entertaining, even if they never speak. Oh well, so the saying goes: actions speak louder than words! A whole scene is played out to music while you are treated to some brilliant clowning. Throughout the show you will enjoy some familiar tunes as well as some excerpts of music that illuminate and impeccably set the mood for the scene. The costumes, masks and props also come into play and become the brunt of some jokes. With some naughty playfulness and brazen breaking of the fourth wall (some actors will climb right into your lap!), you are sure to have a hearty laugh. Love, Lust, & Lace brings out the love, the lust and then they finally bring out the lace, complete with a dance routine!
Playwrights: Mariam Barry, Meegin Pye, Kelsey Ranshaw, Selene Rose, Joylyn Secunda, Parmiss Sehat, Elizabeth Willow, and Francis Winter have put together a boisterous evening of raunchy, over-dramatic, unique and amusing antics. If you are looking for an adventurous evening and getting up on stage is your thing, then Love, Lust, & Lace is for you!
By Selene Dublanko