Lorax Improv - Surprisingly Fun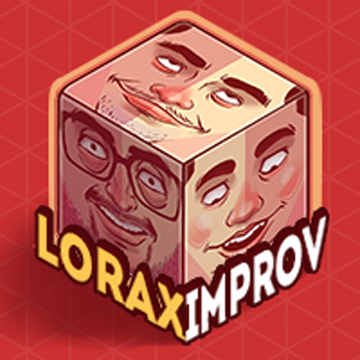 I've had some very bad experiences with improv in the past so when I'm assigned to review a genre that I don't particularly care for, I tend to grit my teeth and do my best to focus on the positive. To my relief I actually quite enjoyed the Lorax Improv show.
What Lorax Improv performed was a long-form improv, which I'm not sure I've seen before. I like a through-line, I don't need much but my brain likes something to hold on to. So that really helped.
Mostly though, the actors were great. The Lorax team is really cohesive and full of energy, you can tell that they're having fun up there and it's contagious. Something I dread about improv and sketch comedy when it's done badly is all the class clown ego and posturing that can happen, but these guys were professional and down to earth, focused more on their task than themselves and it ended up being really engaging.
I love the little touches the group have to make it all flow and tie together. Structurally it was really tight for something that was being made up on the spot and kudos to the lighting technician who was really intuitive about mood and location changes. 
The sketches were fun and imaginative with great energy and commitment. It was a pleasant way to end the evening.
By Danielle Benzon