LOCO + HERO + JOE - Charming Historical Production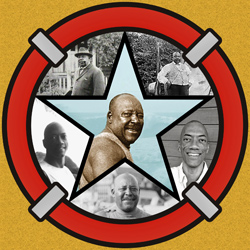 LOCO + HERO + JOE tells the story of local (local = LOCO > LOCOOOOOOOL > LOCAAALLLL, see?) hero Joe Fortes.
The production tells the story with three characters. Surprisingly not Loco, Hero, and Joe, as I had surmised. (When I first heard the title I thought the show would be a comedy set in the Old West.) The cast was comprised of a young woman with an interest in history (played by Jina Anika) who took notes while talking to a lady who was a little girl in Joe's time (played by Sue Sparlin) and Joe himself (played by the producer Darcy McFadden).
The whole production was very charming, and creatively covered the span of Joe Fortes' life through a series of anecdotes and musical numbers. Joe discussed teaching his "water babies" to swim in Vancouver bay, saving people in the fires of 1885 and 86, and his various odd jobs including one as a city constable.  And the musical numbers were overall very well done, the entire cast providing very strong vocal talent. In a few points, however, the music was cued up before the characters were through talking and ready to sing. I'm not sure whether this was intentional or a consequence of not having perfected the performance yet, but it made it hard to hear what was being said. 
Overall a very LOCOL production, one of the musical numbers including the opening line "I apologize" which is just so Canadian, and very lovely. If you have a love of local history or Joe Fortes in particular, (he looks like a very adorable historical figure) I would certainly recommend this show.  Especially if you love music. 
By Kit Martens