The Listening Jar: Justice as Listening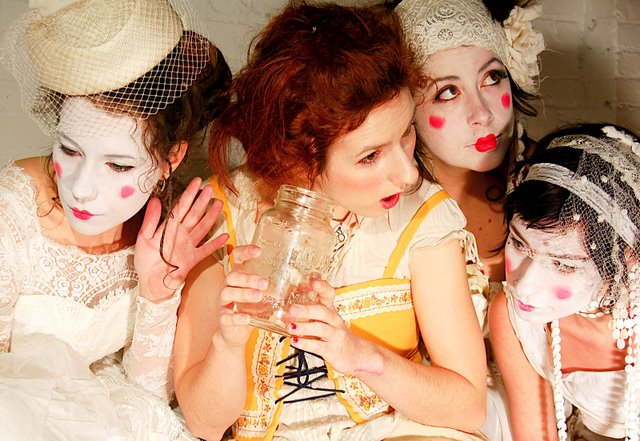 The Dusty Flowerpot Cabaret is a collection of thirty or more multidisciplinary performance artists. They have recently been given a commission from the Pivot Legal society to investigate the meaning of the word "justice". The concept they arrived at through a process of collaboration with each other, and with their community, is that the core essence of justice is an action. The act of listening.
Beginning with this idea they have created a wild and energetic two and a half hour extravaganza involving dance, theatre, music and visual art. All of this came together for their performance run at the Russian Hall in Strathcona for five nights last week.
Entering the hall I find it packed with at least two hundred people. There is an aura of excitement in the air. All ages and all aspects of the community are present, from artists and musicians to parents with kids. Waiters and flag ladies. Medical students and lawyers.
Simply waiting for the performance to begin I am treated to a visual feast. Cloths are draped over the stage. Musical instruments lie everywhere. Old television sets are humming and blinking. A set of drums. An old fashioned overhead projector. A collection of apparatuses that reminds me of the submarine in the old Jules Verne movie, or of Blade runner. A guy is playing a violin. Someone is blowing a sax.
The lights come up at the back of the auditorium on "The Seeker" played by the engaging Meris Goodman. She is dressed in a huge white flowing gown and begins walking across the floor at least 8 feet in the air. I am guessing she is walking on stilts under that dress but cant be sure. The curtains open and the play begins.
The seeker begins the allegory by taking off her ear phones to explore a world of listening that had been shut off to her previously. She starts to sing—a radical act in her society. A group of junk pile dancers arrive and create a huge multi-limbed creature out of silver foil. A ragtag bunch of dancing revolutionaries give a hilarious turn as their leader, Amber McIntyre-Byatt attempts to keep them under control with an iron resolve. An eccentric scientist played by Chris Murdoch putters around inside his makeshift laboratory collecting sounds and storing them in cooking jars.
A wide range of theatrical strategies were employed in this production, and effectively united by the dance element. Kat Single-Dain's excellent choreography contributed a through-line of dramatic energy, humour, and focus. The set design by Basil McMahon and others integrated visual art with story and theatrical spectacle. Candice Curlypaws created a set of costumes that were colourful, wild, surprising and perfectly matched to character. The music by Elliott Vaughan was overall a subdued aspect of the evening, but nevertheless added a unifying quality.
What it was all actually about, and how the different elements in the story relate to each other I am not really sure I could say, but I suppose a certain lack of clarity is understandable in a collaborative being built from the ideas of 34 people. Maybe a little more editing is in order here to simplify things and clarify the story line.
The idea that justice is about listening is an intriguing one and there is an essence of truth there. For me the demonstration of justice was in the process of the creation of the performance itself. 34 artists came together to create something in an equal collaboration, listening to each other, listening to the world they live in, and cooperating in a creation and a giving. By simply going through this creative process they are tearing down many of the artificial barriers that separate us in society: barriers between artists themselves that arise in a culture of elitism; barriers between artists and other professions; barriers between people in general. The entire evening was an act of giving in an atmosphere of equality. This to me is the core element in any idea of justice.
Overall the production is in need of some dramaturgical input. Nevertheless, in the form it takes right now we are treated to a combination of caring, human interaction, spectacle, artistic expression, and fun. This is the kind of energy and generosity that our community and our society are badly in need of right now.
The performance was treated to a well deserved standing ovation by the audience packing the Russian Hall, and although I didn't stay for it, apparently there followed an evening of extreme dancing with an excellent DJ.
I highly recommend this show if it comes our way again. (And I believe this may be planned for May 2009.
_The Listening Jar, created by "The Dusty Flowerpot Cabaret":www.dustyflowerpot.org, played at the Russian hall in Vancouver, Feb 26 to March 1_
By Sjahari Hollands