Limbo: large and broad...and good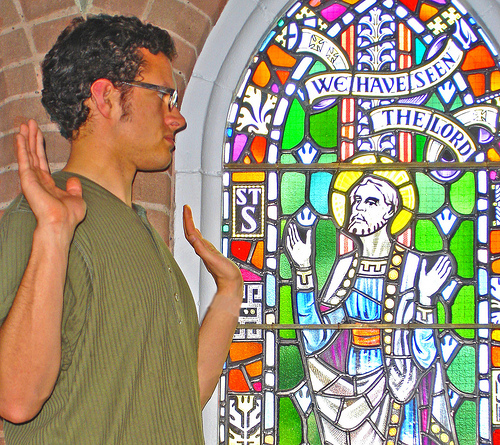 There's one thing Andrew Bailey's latest solo piece does - leave you in limbo.
That's somewhat ironic considering that's the title of the third part of his "Andrew Bailey Monologue" trilogy currently on as part of Uno Fest.  This installment shows a sense of growth and maturation - which one would expect as a performer develops their craft.  Bailey deftly pulls the audience into his own "rabbit hole" (a phrase he used on several occasions during the piece) and releases you with a quick witticism just before you might get too uncomfortable.  That's a very difficult thing to do - and he does it in steps, building upon each moment.  He also does it extremely well in this 60 minute monologue.
Bailey continues to lay out his life story - and does so in a very real and meaningful way. The situations he describes aren't too fantastical to disbelieve and yet are put together in such a way that they play out very well on stage. With only a table, chair and single light-bulb as set pieces, Bailey paints both a setting and tone that can be both captivating and unsettling all at the same time. While the Metro Studio was great in being able to accommodate a decent sized audience, the stage may be a bit too large for this piece.  I felt as if I wasn't in as intimate a place as I needed to be in order to fully be with the performer every step of the way.
This show won't be for everyone, however.  First off, you may not follow the piece as deeply should you have missed the previous two pieces in the trilogy (Scrupulosity and Putz).  There is some continuity that adds another layer - and some familiarity - to the performance.  In addition, Bailey doesn't pull any punches in this one.  He even goes so far as to call out any so-called detractors in the audience.  I didn't see or hear any of them present at the world premiere performance I attended, but I'm sure they're out there.  This show is a mix of sweet and sour moments - you've got to be willing to take it all in and digest it or you won't fully appreciate it.
Limbo is very personal, very funny and very good.
Limbo is part of the Uno Fest and is at the Metro Studio. For more information go here.
By Mike Vardy