The Lieutenant of Inishmore: a gruesome success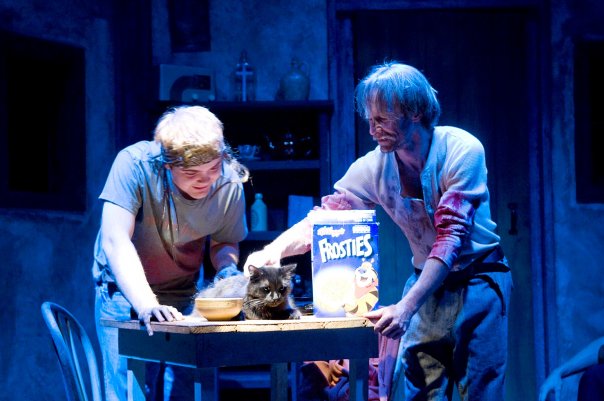 One would be forgiven for not having heard of Canadore College (based in North Bay, Ontario), nor their graduate theatre company, Rep 21.
But their lack of brand name recognition is obviously not indicative of their worth as artists considering their solid production of The Lieutenant of Inishmore which just finished its run at the Berkeley Street theatre.
Having said that, this is one of those cases where the script is the real star of the show and a positive end result is virtually guaranteed as long as the production team and acting talent don't do anything to "feck" up the story. Playwright Martin MacDonagh's 2001 script is rife with his trademark elements of wit, violence, and distinctive Irish characters, and uses them all to weave a dark and juicy tale about the senseless spiral that is revenge. After the seemingly innocuous death of a cat draws a notorious Irish republican madman (deemed to be too crazy even for the IRA) home to mourn, the bumpkin inhabitants of a small isle are thrown into a fearful frenzy and hatch a laughable plot in an effort to avoid his wrath. Not surprisingly, the plot doesn't unravel as planned and things get messy both figuratively and literally for all involved.
Director Rod Carley guides a mix of established actors and graduates of Canadore's program through MacDonagh's twisting script, shaping the performances with an appropriate amount of quirky largesse. Although Carley nails the 'Resevoir Dogs' meets 'Father Ted' mood of the piece, some of the technical elements, such as the blocking, do feel a tad clunky (possibly a side effect of the limitations of the relatively compact set).
If MacDonagh is guilty of one failure, it is the lack of any character that the audience can truly get behind (not a requirement of a good script, but arguably one of a satisfying emotional journey). There are no diamonds in the rough in The Lieutenant of Inishmore, only the rough and the rougher. This can certainly leave one less appreciative of a fine performance if it is overwhelmed by the bad taste a character leaves in one's mouth. Even so Tim Nicholson is a pleasure to watch twitch and yell obscenities as Donny, a cranky rural fool and father of notorious terrorist and torture artist, Padraic played by Matthew Krist. Kirst does justice to his representation by delivering the Irish nationalist's parallel psychopathic and sensitive tendencies with ease.
The Lieutenant of Inishmore is not for everyone. Neither children, nor the faint of heart, nor those with a conservative artistic temperament should sit through this bloody mess of a show - and that is intended as a compliment. All others would likely relish Rep 21's capable production of MacDonagh's gruesome script.
The Lieutenant of Inishmore has finished its run but you can find out more about the production here.

By Justin Haigh