Lavignia: A Wholesome Indulgence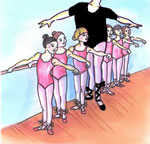 Victoria: If you've heard one too many politic stabs, or taken in an ounce too much of obscurity this Fringe, then stay out just a little bit later and go meet Lavignia. Vancouver's Tara Travis plays the entire playful cast in this storybook adventure directed by Ryan Gladstone, but she simply sparkles as the eight-year-old giantess.
Poor Lavignia has reached 8'3'' already, and wants nothing more than to be "graceful, elegant, and beautiful—just like everyone else." Like many children, her imagination gets her in trouble, but ultimately brings great reward. Travis skillfully brings one entire world to life within another with nothing but a controlled selection of sound effects and close to no props (three puppets, a pink scarf, and a schoolbag to be exact). Her show is hilarious, heartrending, and just interactive enough to raise the atmosphere from warm to downright cozy.
It's too bad Lavignia has so many late slots, because the kids would eat it up. But as it is grown-ups seem more than happy to stay out late and indulge in a fairy tale together.
For showtime information go here.
By Robyn Cadamia