The Last Piece - Simple, Humble and Worth It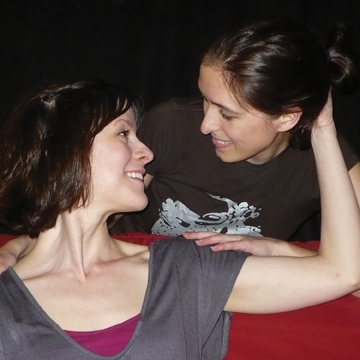 Here is what I have to say about The Last Piece. Ready? Go see it. Really. Seriously. Go see it. Get up right now and go. Only if they have a show time right now as I wouldn't want you to get there and stand around but you get the point I am trying to make. I was really impressed with this little gem of a show.
We meet Kate (Tara Pratt) and Lee (Joanna Gaskell) in a bookstore and a strange and heartbreaking friendship is born, if only for a night. These opposites attract and in the end find they are more alike than different, and in each other find the traits that in themselves they are lacking. I felt as though I was watching a film. Pratt and Gaskell fill the cozy Havana space with just enough energy and the theatre becomes a magical space. A space in which it feels as though we are really looking in on the intimate evening of two strangers as they, awkwardly, heartbreakingly and sometimes humorously, find their way through this new connection. The power shifts are flawless and both performers hold the room. The reactions are behavioral, instinctive and guttural. I didn't feel as though I was watching two performers act. I felt as though I was watching two human beings interact. That is beautiful. Gaskell has a dry delivery that showcases her wit and Pratt has a really humble and relatable humor. Both of them are forces to be reckoned with. When the script was funny there was laughter and when it was heartbreaking you could hear a pin drop. 
The writing and direction of Jacqueline Korb is simple and humble. No more and no less, but she got her actors to journey exactly where they needed to land. The only criticism I have is the length. There were many times I was left with the feeling of a false ending. No matter how endearing the characters were I found myself drifting at the hour mark and kept getting the rug pulled out when the lights would come back up to a new scene. I wasn't the only one because others almost started to clap at times before realizing the show was still going. I was also waiting for a certain puzzle piece to be acknowledged.
No matter. I look forward to the development of this show. Kudos to this creative team.  I always love shows that bring it back to the bare basics. Two actors. Two set pieces. Minimal props. Great writing. Great performance. A moved audience. 
By Mallory Gallant