Kicked: just like the kids, this play may have potential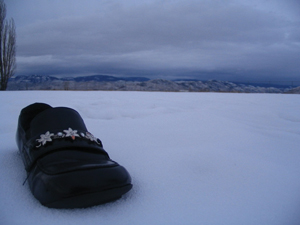 First off, thank god the Fringe dropped the Pacific Theatre as one of their main venues. It's a fun little space but it was murder for any production not only because it was hurting their box office being off the island, but also forced productions to sometimes completely reblock their show because of the odd setup of having raked seating that faces each other.
As a regular venue it seemed like a punishment for groups in the Festival to be put there. As a BYOV at least productions that don't get into the Fringe know what they're getting into ahead of time. All of these elements were crossing my mind when I sat down in Pacific to watch Kicked, and wouldn't you know it, there was that one guy that decided to sit on the other side directly across from me, so pretty much my entire view of the play had this one guy in the background the entire time.

Kicked is a one man show that tells the story of a cop trying to solve the mystery of a missing girl in a small town. The story is told mainly through monologues of various people the cop interviews combined with cop's inner-dialogue with what he thinks is the missing girl was trying to communicate with him.
I knew nothing of Kicked when I sat down, and when it ended my first thoughts were that it wasn't half -bad and had a lot of potential for a play that I could only assume was still early in its infancy. I recognized signs of good ideas in the script that weren't entirely fleshed out and direction that still had some rough edges. After reading the handbill I realized that Kicked (Written by Michael Healey, Starring Adrian Mancini, and Directed by Derek Rein) is actually an older production from the 1996 Toronto Fringe which had Healey in the starring role. I had to rethink my assessment.
Mancini is a very competent performer but I think the production suffers a bit from a script, and I can only speculate, that worked better when the author was performing it. I think when a writer writes a one-man show that he knows he's going to perform, he may be assuming things in the script that he's not writing down, because he figure's no one else will be playing the role. Some directorial choices seemed a bit rough too, like an air-guitar sequence that seemed to go a little too long and in the final moments there were 3 or 4 times where I thought he had said the last line of the play only for it to continue for a little bit more.
The play does have some very clever statements about the nature of adolescence and growing up told as told through the adults trying to solve the mystery. Just like most kids though, this play needs nurturing too, because it does have a lot of potential to become a really special piece of theatre.
For showtimes get kicking here.
Did you see Kick? Well, then kick off the comments below.
By Michael J Unger