Keith Brown: Exchange – Friendly Magic, A Little Bit Scary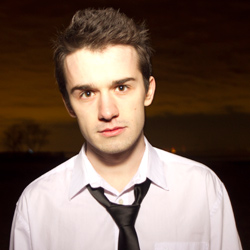 Confabulist Keith Brown warmly and gently engages his audience in very non-threatening ways to help him test his sleights of hand and challenge his learnable skills of memory. Even when his tricks look like they're going to fail, they don't. An audience member's cell phone that he'd magically conjured to ring didn't, to the embarrassment of the Rogers' subscriber. But then it did ring—ten minutes after the trick was over. Or was that part of the trick?
I've read Steven Galloway's The Confabulist which includes an account of how Harry Houdini did his needle-swallowing and threading trick, so I know how it is supposed to go, but danged if I could see any of that happening when Keith Brown did the trick. And Brown upped the tension by preceding the trick with an account, complete with x-rays, clinical photographs, and a hospital admission band of an occasion when one of the needles perforated his stomach—the one time in his 13 years of magic when this one didn't quite work. Or was that story part of the confabulation, too?
Keith Brown uses a different level of engagement from what you'll find in, for example, James and Jamesy in the Dark, where adult willingness to share in creating finger puppet play amidst disorienting lighting and stage boundaries is needed. That kind of risk-taking is thrilling for some, frightening for others, requiring careful judgment by the artist to nudge the next stage of the creative work along. But in Brown's Exchange, the engagement requests are easy—pick a number, pick a card, choose a tie—so risk-taker and cautious soul alike can participate fearlessly.
Except for the smartphone-hammering and the needle-swallowing. One young person in our audience politely declined Keith's invitation to help him with the needle-swallowing, fearing a harmful outcome to the magician. Brown politely accepted the decline and asked another young participant sitting in row 2 with arms crossed, perhaps another reluctant recruit. But it went well. No perforations. And the worried participant's iPhone 6 was returned intact. It rang ten minutes later. For a nice time for all ages, go see Keith (Brown).
By Keith Wilkinson