Just Watch Me – Voters: Take a Walk in the Snow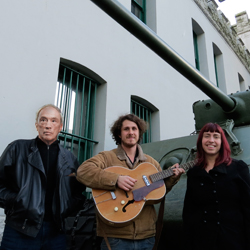 The Back to the Future/Doctor Who time travel dimension to this work strikes a resonant chord, bringing the 1970 imposition of the War Measures Act into comparison with the 2015 Bill C-51 Anti-Terrorism Act. Both laws were enacted under the somewhat arrogant leadership of law-and-order-oriented Prime Ministers of the day—one Liberal, one Conservative. Whereas The Hunger Games: The Musical focuses on youthful response to oppression in a time of complete Orwellian surveillance, Just Watch Me examines the more subtle erosion of human rights in 1970 and in 2015, a reminder that we have seen this kind of political time before, and that our vote in federal elections matters. There's no similar message of social responsibility and opportunity in The Hunger Games. So from ethical and practical points of view, Just Watch Me is the more nuanced and more important of the two works.
But these political messages are subtle, and secondary to the musicality and gentle humour of the work, so the audience is never brow-beaten. Instead, the idealism of the characters, young and older, shines, with compelling individual and ensemble dramatic, song, and dance performances led by Avy Crowchild, Luis Guerra, Emily Elliot, Barry Honda, Michael Kosterman, Sam Ellington, and Adam Olgui and the lovely five-member multi-instrumental live band directed by Jennifer Charters. (The Hunger Games: The Musical featured only a keyboard.) Barry Honda made both a wonderful black-suited security guard for the PM and a wonderful head-banded hippy transformed by his time transport back to the seventies.
One thing that did irritate me a bit was the depiction of the Canadian Armed Forces. The uniforms were not very uniform, some were worn in a slovenly way that would drive military professionals nuts, and most didn't seem to know how to march or salute. There are learnable standards for those things. I know, this is the Fringe, but still, a little attention there please. Maybe General Rick Hillier would offer some pointers. I was a bit distracted also by the appropriately dashing Adam Olgui's Spanish accent in the role of Trudeau. But uniforms and accents are minor quibbles.
There may be more pure singing voices than Avy Crowchild's, but hers is unique, and she is perfectly cast in this lead role, bringing to it an appropriately shy, eager, and entreating quality. Luis Guerra is equally well-cast in his parallel lead role. The song "A Walk in the Snow" was my favourite, the refrain suggesting that perhaps that walk might be a good thing for all of us to take—before the next election.
This is a really good show on so many levels. Sell it out!
By Keith Wilkinson