Just Watch Me: A Trudeau Rock Musical – Sunny and Heartwarming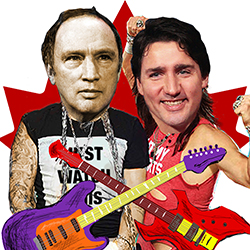 Exuberant, youthful energy is palpable throughout Daniel K. McLeod's updated production of this 2015 Fringe hit. It's funny, sunny, and thoughtful, and doubly energized by a cast, musicians and crew who clearly work well together whether dancing, singing, or delivering the satire.
Many of last year's strong cast are back, notably Adam Olgui playing multiple roles including the dapper and haughty Pierre Trudeau, and Avy Crowchild playing the lead role of May Lee. Emily Elliot and Caylee Watrin return as May Lee's close friends, and they are a lovely, animated pair of supporting actresses. Elliot plays the role of the quiet friend, Ina, with great delicacy and presence, and Watrin romps through the role of the popular Kat. I look forward to seeing more performances by these two young women.
There are some sunny new faces as well. Emmaline Rathburn skips across the stage in Hogwarts attire as a young British visitor, JK, warning the seventies about muggles. The Teacher's Song is touchingly and truly rendered by Ian Backstrom, honouring all those teachers who make a positive difference in young lives. Kyle Keyworth flexibly and capably plays the romantic lead as well as several other roles. Rowan Jang also performs multiple roles, including that of Justin Trudeau to whom he bears an uncanny resemblance, both physically and in attitude. I'm reminded of Colm Feore's 2002 film performance as Pierre Trudeau. And Anna Webster pulls off a striking resemblance in manner to Sophie Gregoire. Great casting, great ensemble performance!
The heart of the production, however, remains Avy Crowchild playing the lead role of high schooler May Lee who travels back to the 1970s on a history assignment to chat with Pierre Trudeau, and offers him prescient counsel from the vantage of the future. Crowchild imbues her role with a sophisticated balance of charm, poise, energy and wisdom. She's a small woman with an enchanting presence and an endearing voice.
The political backstory of the play remains relevant: when and how is it appropriate to suspend human rights for the security of the nation? In the 1970s it was the imposition of the War Measures Act in peacetime by the Pierre Trudeau government; in 2016 it is the Bill C-51 Anti-Terrorism Act introduced by the Harper government and still in place under the Justin Trudeau government.
It was fun to feel the gentle satire poked at Canadian political icons John Turner, Robert Stanfield and Tommy Douglas – something for each of the major parties. The soldiers seemed more astutely performed this year than last. Was it better uniforms, improved salutes, or their dancing choreographed by Kimberly Ma? The security officers and high school tough guys and heroes are satirized in a kind, Canadian way by a collection of charming actors—Kevin Hatch, Mark Wolf, Jake Anthony, Kyle Keyworth, Kimberly Ma—who I couldn't keep straight across their multiple roles. The performance is elevated another notch by original music and a five-piece band led by Cale Plut and Brendan Steele.
While fun and provocative as a satire, Just Watch Me: A Trudeau Rock Musical is mostly about friendship, loyalty and kindness. Coupled with excellent performance in all realms, it's a heart-warming show from beginning to end.
By Keith Wilkinson
Tags:
satire
,
Canadian politics
,
muggles
,
high school
,
teachers
,
energy
,
musical theatre
,
ethics
,
friendship
,
humour
,
loyalty
,
War Measures Act
,
Bill C-51
,
Avy Crowchild
,
Adam Olgui
,
Daniel K. McLeod
,
Mark Wolf
,
Rowan Jang
,
Kim Ma
,
Cale Plut
,
Brendan Steele
,
Red Haven
,
Justin Trudeau
,
Pierre Trudeau
,
Sophie Gregoire