The Jupiter Rebellion — Leave Disbelief & Feminist Sensibilities at the Door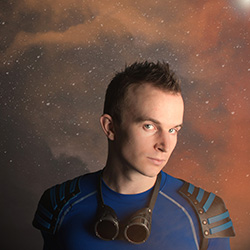 Jeff Leard is relatively new to the relatively long tradition of high-energy, fast-talking one-man Fringe shows. He's deservedly getting great reviews – lots of four or five stars and a "best of fest" award too.
This one, The Jupiter Rebellion: A Zach Zultana Adventure, opens in 2193, some 150 years in the future. Our hero, Zach Zultana, is a geominer out in space. His working conditions are not so good and after the Big Boss turns on him, things get much worse, for him and for his co-workers.
He's demoted to custodial staff but winds up being a force for good as he and his co-workers do a Norma Rae-style labour protest/rebellion. His colleagues refuse to break ranks to desert him when the Big Boss bribes them. They have found a hero who will stand up to the boss and they want that.
Jeff Leard as Jeff breaks in now and again to give us the screenplay directions for our imagination. We get wide-angles, close-ups and fast-paced elevator rides (from floor 150 down to 100, to 50)...
His talents really show when he plays two characters in dialogue, switching swiftly from one side of the conversation to the other.
Critique? Well Jeff and Zach are pretty indistinguishable in terms of voice and style.  Maybe intended, but I wish they were more distinct. Frank and Nik are cartoon characters. Can one ask for more complexity in a Fringe sci-fi show? Oh, why not?
We may be more than 150 years in the future, but regrettably for us feminists, it turns out that wives are given keys to the vehicle (in this case spaceship) but not ownership rights and are treated like "just another possession" by their ego-driven husbands.
The other two female characters, Diane from HR and Karen, barely get a mention in the show and we certainly don't hear how they're doing in the epilogue. Why would I think things should be different? Oh, sigh.
At least, even though unions are still needed, there are also still heroes who will stand up to The Man. I would have liked an Erin Brokowich or a Norma Rae.
And so far as I can tell in the end, Alexandra, the love interest, maintains control of her own spaceship even though without Zach she wouldn't have either her divorce or vehicle.
It surely doesn't need a spoiler alert to tell you that in the end Zach and Alex drive off into the sunset together.
By Mary Bennett