Junk! - Take the Kids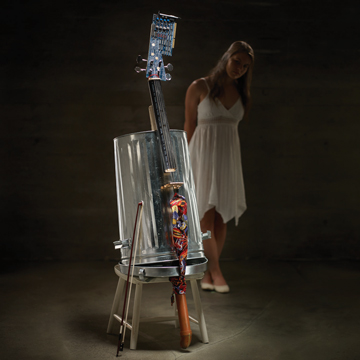 So a Fringe show called "Junk". Hmmnn.  Well, actually it turned out to be a family-friendly musical with musical instruments made from, yes, junk and a storyline about recycling and community. Always something to surprise you at the Fringe.
Paul Snider, the creator, plays Dan the Junk Man and also conducts his orchestra of 11 who play instruments such as the recycolin, tincello and (wheel) barrow bass  I loved it that they occasionally took time to tune up.  
I sat in the front row because I wanted to see the instruments played close up. Don't do that. There's a lot of percussion and you'd get a more rounded audio if you were farther back. I was there early so went outside to the patio out back of the Firehall and saw all the instruments get moved down the street. Do that. 
I didn't pick up some of the subtler tones most of the time, like the wine glasses half-filled with water played by Nikki Snider. But all of the musicians were devoted to their instruments, looking every bit as professional as if they were playing (quote-unquote) "real" instruments.
My only regret? I didn't arrange to take my grandkids. I usually find at least one Fringe production to take them to and this would be perfect—especially for Lukas who hopes to play percussion in the school band. I can picture us coming home and making musical instruments from junk. Maybe Em could make a flute she could bring to school.
So, take the kids, grandkids, teenagers, parents.  Not quite sure whether VSO-lovers would love it, but maybe. Let me know if you're mainly a classical music buff and try it out.
 
By Mary Bennett