Jullanar of the Sea: tea, beauty and an ancient story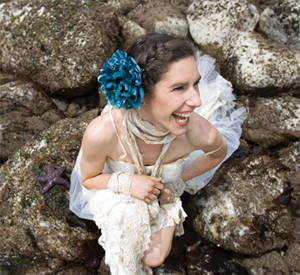 Arriving at Granville Island while the rain still pattered away, I was relieved to feel it subside as I made my way to Jullanar of the Sea. The air was fresh and the ground damp along the walkway to the very corner of the island at the Amphitheatre in Ron Basford Park.
I wondered if this play would actually take place tonight. At the far corner sat a small tent, colourful material hang from the sides, pillows strewn on the ground and blankets scattered warmly. There were at least 20 of us waiting to partake in this storytelling and when I heard we were all to squeeze under this little tent, I was curious as to how that would take place.
The artist, Naomi Steinberg, assisted the group in cozying down. Amazingly we all found a comfortable spot on a pillow or blanket and we were all offered a warm cup of tea. The heat of our closeness and the surroundings felt as if we were entering a secret hideaway ready to embark upon a magical journey.
For an hour Naomi entranced us with a beautiful old Persian tale from the 1001 Arabian Nights. She brought it to life with elements of comedy, drama, tragedy and adventure. The candle glowing in the middle of the huddled group flickered as her enchanting tale was revealed piece by piece, layer by layer. I felt like part of a secret society of listeners as she wove the fairy tale though the lives of beautiful Princesses and Princes, from far away lands with magical powers and mysterious lives.
Jullanar of the Sea, as Naomi explains, is the last of the 1001 Arabian night stories told by Scheherazade to King Shahryar.  A story within a story, the brilliant Scheherazade, a princess herself, creates 1001 intriguing connected stories that enrapture the King, sparing her life and the future of the kingdom – yes an amazing woman. And within the final story is another beautiful and powerful Princess, Jullanar, who leads men to their death overcome by their love for her. The story is brimming with unexpected twists and passionate emotions as one Prince finally succeeds in capturing the heart of Jullanar, after all Scheherazade had to most importantly sustain the audience of a King. The whimsical and amusing content allows us to imagine that anything is possible in the world of storytelling.
Naomi has created a very special BYOV (bring your own venue). Different than any other experience at the fringe this year, Naomi will be there, rain or shine,
powerful and statuesque in a beautiful silk dress, pouring her heart out with this enthralling tale of long ago. Bring your parents, your children, your boss, they will all enjoy this ancient pleasure.
For more information on performance times go here.
Did you see this show? Tell us your thoughts below.
By Lianna Walden