Joseph and the Amazing Technicolor Dreamcoat: cheese, glorious cheese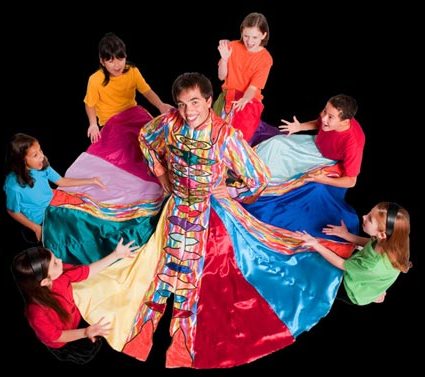 Footlight Theatre Company's production of Joseph and the Amazing Technicolor Dreamcoat by Tim Rice and Andrew Lloyd Webber is a silly roller coaster of infectious songs and good family fun.
Loosely based on the story of the biblical Joseph, Lloyd Weber's Joseph transforms a serious retribution story into a multi-genre, musical fluff fest.  It's colorful, it's loud, it's catchy, and it's sweet.  In director Lalaina Lindbjerg Strelau's own words, Joseph is "one of the silliest, craziest, most wonderful shows [she's] had the pleasure to work on."  What the musical lacks in content, it makes up for in style.  Strelau pulls out all the stops to make Joseph as perky as can be: bright costumes (thanks to Christina Sinosich), talking animals, an interactive Elvis, and the cunning use of cute children.
 
The lead voices are top notch.  Bree Greig (Narrator), Danny Balkwill (Joseph) and some excellent supporting voices elevate the production standards.  Even so, at times Joseph rides a fine line between a professional show and community theatre.  The Amazing Technical Kids Chorus, while heartwarming, creates a happy chaos that seems more reminiscent of a Christmas Pageant than a professional show.  Strelau generally rides this line well, capitalizing on the freedom to create ridiculous tableaus while wowing the audience with the genuine talent of its vast cast.
However, she missteps with an indulgently long encore that seems to have no other purpose than lengthen the show and show off some of the supporting cast. A full ten minutes after the show properly ends, the chorus is still trying to rally the audience into a happy, hand-clapping frenzy.   If the show had ended in its proper time, the audience would leave happy.  As it was, I was tired of applauding and a little baffled.  Another discordant moment was elevating Joseph on a lift at the end of the show.  While it's nice to see the coat in all its glory, this clumsy moment just seemed too orchestrated and abrupt to be justified. The sound system was also, unfortunately, uneven (probably just some opening night wrinkles) and some of the solos (like Pharaoh's) were inaudible.
Despite a few miscalculations, Joseph does deliver on its promise of fun and entertainment.  A few days later, I'm still humming the songs, tapping my toes, and thinking about those cute kids.  So perhaps the proof is in the cheese after all.
 
Joseph and the Amazing Technicolor Dreamcoat Presented by Footlight Theatre Company; Michael J. Fox Theatre, November 6-14th, 2009;  Starring Bree Greig, Danny Balkwill; Directed and Choreographed by Lalainia Lindbjerg Strelau; Music Direction by Monique Creber; Produced by Jim and Alison Stewart
 
By Rachel Scott