A Jew Grows in Brooklyn: a shtick without chutzpah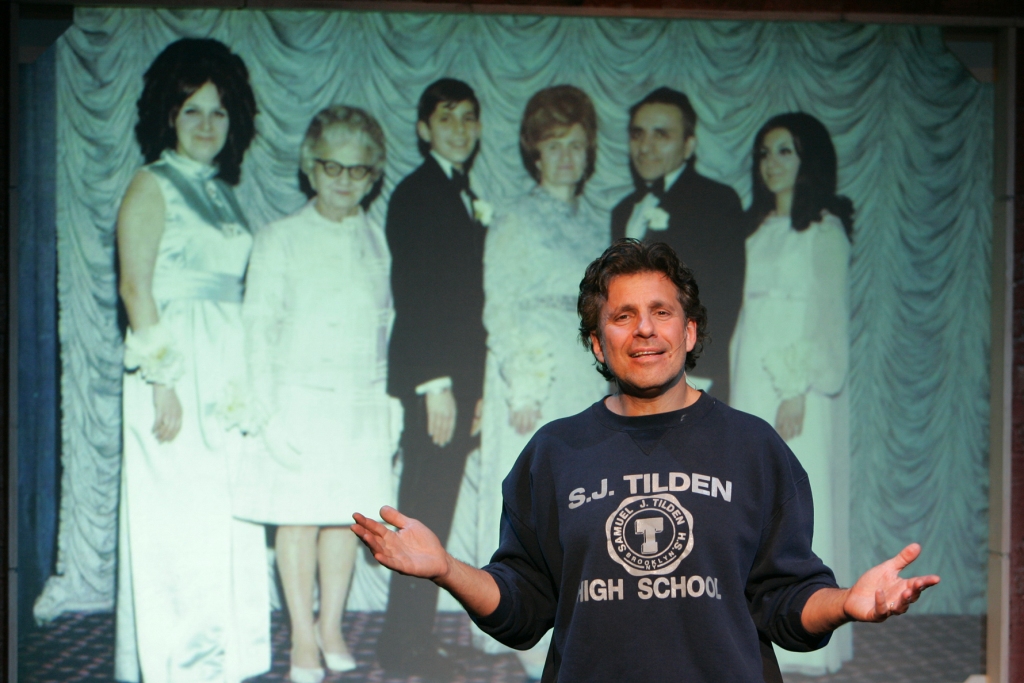 Halfway through Jake Ehrenreich's autobiographical one-man show A Jew Grows in Brooklyn we find that his career began as a lounge MC in the Catskill Mountains, entertaining rooms full of vacationing families with corny jokes. Suddenly the preceding hour is put into context, as no sign of stylistic evolution from these early days can be found in Ehrenreich's performance.

A Jew Grows in Brooklyn, currently on at the Panasonic Theatre, is billed as a rock n' roll comedy musical, but rather than the jaunty dance narratives this tagline evokes, the audience is instead treated to almost two hours of groaners, trite anecdotes and half-rate crooning. Ehrenreich's overacts his way through the story of his life, being born to Holocaust-surviving parents in Brooklyn and searching out his own sense of identity as a Jewish American. Unfortunately this inner conflict never becomes more profound than the discovery that many early rock n' roll ballads were composed by Jewish songsmiths.
Ehrenreich's monologues bear the same eye-rolling tone of a hokey uncle delivering an uncomfortable wedding speech, complete with a slide show of family snapshots. His reminiscing on a youth filled with stickball and bar mitzvahs is nothing short of schmaltz with a sledgehammer, wherein any potential interesting reflections are lost in our host's overblown scenery chewing.
The subject manner of growing up as an immigrant in New York is hardly new, but rather than seek out some fresh angle or perspective on a well worn topic Ehrenreich instead uses his time on stage to indulge his vanity. He sings, he plays instruments, he tells jokes – but at no point does he do anything new, or, arguably, well. His talents as a musician are sufficient for a hotel bar, but shouldn't be used for more than an idle distraction from a brisket dinner.
The palatable moments of the performance are few and far between, and generally involve Ehrenreich eschewing his excessive camp in favour of moments of more solemn reflection. A few monologues on his family and their experiences in occupied Eastern Europe come across as earnest without being maudlin, and a Yiddish lullaby is the only musical number that didn't evoke a high school talent contest.
Due respect must be paid to the band, who navigate admirably through Ehrenreich's varied karaoke medley. Unfortunately they're mostly lost amidst the backdrop of Joseph Egan's set, a façade of Brooklyn brickwork designed to replicate Ehrenreich's childhood home.
I encourage anyone who may still be curious about taking in the production to first view this sizzle reel, which manages to summarize the entire performance in eight minutes and still feel bloated. However if Ehrenreich's grasping effort to emulate the charm of Jerry Lewis or Billy Crystal is to your liking, the show will be running at the Panasonic Theatre through May 16.
A Jew Grows in Brooklyn is written, conceived by and starring Jake Ehrenreich; directed by Jon Huberth and Jake Ehrenreich; scenic design by Joseph Egan; musical direction by Mike Reilly. Playing at the Panasonic Theatre till May 16, for more information go here.
 
By Ryan West