Idan Raichel Project's Tapestry of Sound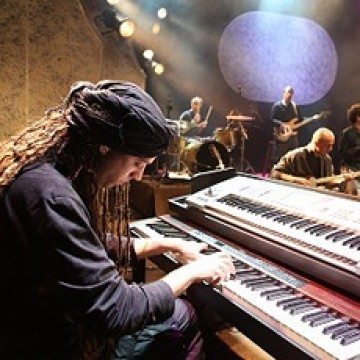 There are the words and the melodies I write, and there are the fusions that I create between ethnic groups, between currents and between people, and in the encounter between them everything is open ~ Idan Raichel
On March 4th the Chutzpah! Festival kicked off its tenth anniversary with a performance by the Idan Raichel Project, which treated visitors to the Chan Shun Concert Hall to a taste of the jazz inflected world music that is its forte. The Idan Raichel Project is known for fusing Israeli pop with music from around the world, from Ethiopia to Morocco and beyond. The cast of the project rotates regularly and over 80 performers have played with the group at different times.  On Thursday night, Idan Raichel performed on piano with vocalists and musicians from Sudan, India, Yemen, and Israel.  
The project's musical arrangements have a kind of sculptural beauty. Songs began with sparse melodic introductions by one voice or instrument: Idan Raichel's fluid arpeggios and deft chords dropped like rain into the still pond of the concert hall; Eyal Sela's breathy wooden flute soared to emotional heights before allowing  the notes spiral away.  
Into this pure melodic play came the soft insistent sound of fingers tapping on the skin of a drum or the dry sound, like hissing, wind-blown sand, of brushes on the cymbals.  One or two performers would lead into a song and then switch off with others, or a second instrument would slide in under the first with impeccably timed harmonies: at one point Yaacov Segal's bass merged with Raichel's piano so faultlessly the two seemed like one unearthly instrument.
The majority of songs were ballad-like and saturated with passionate emotion.  Male vocalist Ravid Kahalani's voice was pleasantly gritty and vital, while female singer Cabra Casay's resonant voice welled up as inevitably as water from the ground, filling the room to the vaulted ceiling.  Pensive, yearning melodies were interrupted by raucous percussive outbursts from drummer Gilad Shmueli, which clinched the songs and temporarily grounded their flow, before another instrument or voice broke away with a new variation on rhythm and phrasing.  Idan Raichel Project strikes a pleasing balance, drawing complexity out of simple elements by layering them  together in a rich tapestry of sound.
As a listener most accustomed to the sounds of Western music, it was a revelation to hear the familar made strange. Certain suspensions and note-combinations clearly had jazz at their roots, while the overall structure felt of a piece with popular/folk/rock music.  Alone, these elements might not have held an audience, but used judiciously as gleaming accents in the larger whole, they turn songs into wonderful hybids. The oddly familiar exoticism (to my Western ear) of the arabic tonal system and the bright celebratory tones of Ethiopian song were enriched for being in a more authentic context than pop culture usually allows – as traditional music sung by professionals in those traditions.
The Idan Raichel Project is widely celebrated for the diversity of influences that it brings together. The group has als occasionally drawn fire from those who think that it overemphasizes founder Idan Raichel while backgrounding other musicians. Thursday night's performance suggested otherwise: it showed a group of strong collaborators excelling at what they do, trading melodies and rhythms while sharing the limelight.  Each musican brought a distinctive sound to the stage. That sound was not submerged in collective but was a unique thread woven into the larger whole. 
By Kirstie McCallum