I Have My Own Steps Mom! - Dance, Dance and More Dance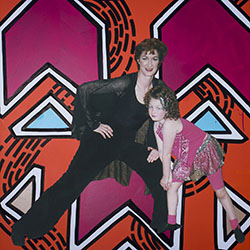 Do you have your dancing shoes on? You're going to need them for this show. Cydney Eva and Lindy Sisson are a mother-daughter duo that is going to explain to you the influences of dance and showmanship that have been ever present in their lives. From Ballet to Burlesque, they've got it all.
This really is a tribute show to Cyndey and Linda's father/grandfather, Hal Sisson, who was in "The Biz". Although you could tell that this show meant a lot to them, it might not mean as much to the audience. A big chunk of the show is comprised of videos of Linda and Cydney dancing as children, along with clips from Hal's shows. Those parts weren't overly engaging.
It was fun getting up on stage and learning the dance moves or doing them from your seat. Audience participation is always a good way of keeping people involved in a show. I did find the things they were talking about mildly amusing and a few choice acts were strewn about within the performance. I particularly liked a monologue about Cinderella in which Cydney wixed up all the mords (mixed up all the words). Often though, I felt unconnected to the story and didn't really see the point of knowing all these things about people I would never see again.
A little bit more organization would go a long way in this presentation. The curtains didn't hide the women much and so cheapened the opening burlesque routine in which only a hand and foot were supposed to be seen. Both Cydney and Linda asked each other a few times what time it was during the show and seemed to be lost for what they were supposed to be doing next.
Over all I did enjoy myself and other than a teensy weensy bit of swearing, I Have My Own Steps Mom is good for all ages. The women were charismatic, pleasant enough to watch dance and it felt like they were having more of a conversation than a performance. I suppose I did leave with a bit more of a bounce in my step than when I arrived.
By Julia Fox